One of the favoured places to visit, and located in the heart of England, it's no doubt that many hikers absolutely love the Peak District. There is some beautiful scenery in this area that will leave you speechless, so today I am going to share with you some of the stunning places to visit, so you can plan your next hiking trip.
The Peak District is a beautiful place to hike. It's not just the natural beauty of the landscape that makes this area one of England's most popular hiking destinations, it's also the variety of trails available for different levels and abilities.
Some people choose their routes based on how long they want to be outside – there are many short hikes that take less than 2 hours, but if you're looking for something more challenging then there are plenty of 10+ mile walks or multi-day treks with camping options too.

The Peak District
The Peak District is a beautiful national park in England that offers some of the best hiking in Europe. It's full of valleys, hills and lakes with lots to see. A walker can expect to find everything from wildflowers, ancient stone walls, caves and waterfalls to rolling fields and rugged moorland where sheep graze.
Where is The Peak District?
The Peak District is mainly based in Northern Derbyshire, although it extends out to cover parts of Cheshire, Greater Manchester, Staffordshire, West and South Yorkshire. It is usually split into two areas – the Dark Peak which is moorland with gritstone stacks, and the White Peak, a series of valleys and gorges through limestone hills.
The Peak District National Park
The Peak District was the first area that was given National Park

status, back in 1951. It covers and area of 1437 square kilometres, and attracts well over 8 million people each year to the area. The main towns within the National Park are Bakewell, Tideswell and Matlock. It's full of beautiful landscapes, but is totally landlocked so no coastal views for you to enjoy.
The Top 10 Places to Visit in The Peak District
So let's get down to our list…
Robin Hood's Stride
Robin Hood's Stride is a gritstone rock formation located between Matlock and Bakewell. It's a favoured place for hikers, rock climbers and landscape photographers – sunsets are a particular favourite for the latter. If you look at the rock formation it appears like there are 2 towers, and that goes some way to it's nickname of "Mock Beggars Mansion".
In the next field, just 200 metres away, is the Bronze Age monument Nine Stones – although only 4 remain standing in a circle now. If you are visiting please note that there's no car park nearby, but there is roadside parking just a short walk away.
Harboro' Rocks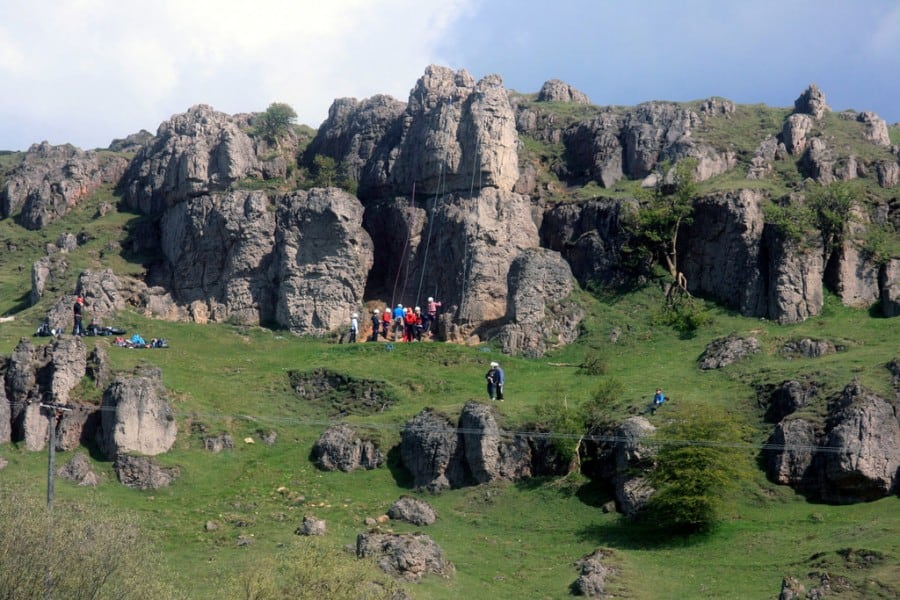 Harboro' Rocks is a series of jagged rocks, located above Brassington, near Matlock. They are made from Dolomitic Limestone, and make good rock climbs, as well as being a favourite for landscape photographers. There's also a cave (Harboro' Cave) which dates back to the Ice Age – human remains and primitive tools have been excavated here.
Nearby there's a derelict windmill, and also an old lead mine with it's 4 towers still standing and marking the location.
Magpie Mine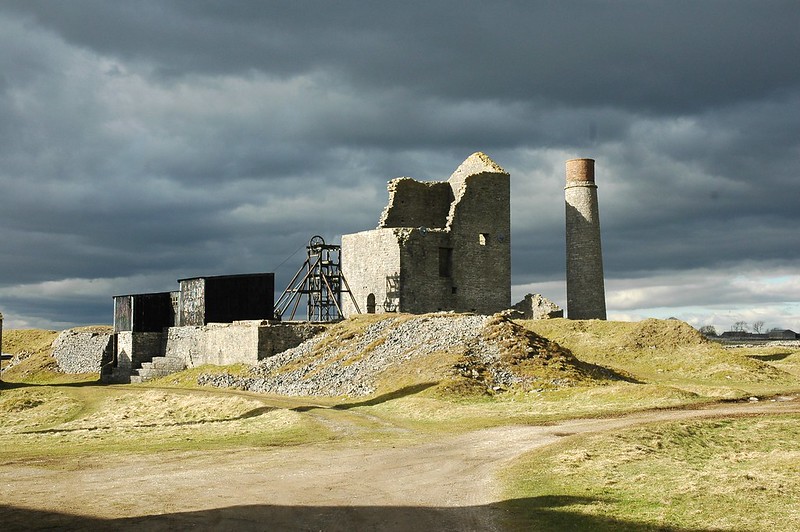 Magpie Mine is a former lead mine near Sheldon in Derbyshire that was in use for over 200 years until it's closure in 1958. The site is now managed by The Peak District Mines Historical Society. It is located just 5 minutes from some on street parking, and is a great location for landscape photography – just imagine the beautiful shots.
Peter's Stone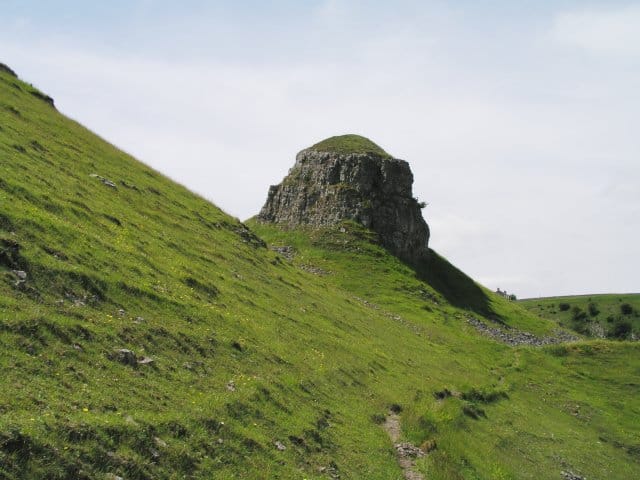 Peter's Stone, also known as Gibbet Rock, is found in the north of Cressbrook Dale, and is a limestone stack on top of the hill. A gibbet is a gallows or metal cage used to display the dead bodies of criminals, in the hope that it would deter other people becoming criminals. It's rumoured that Peter's Stone was the last one that was used in Great Britain.
Curbar Edge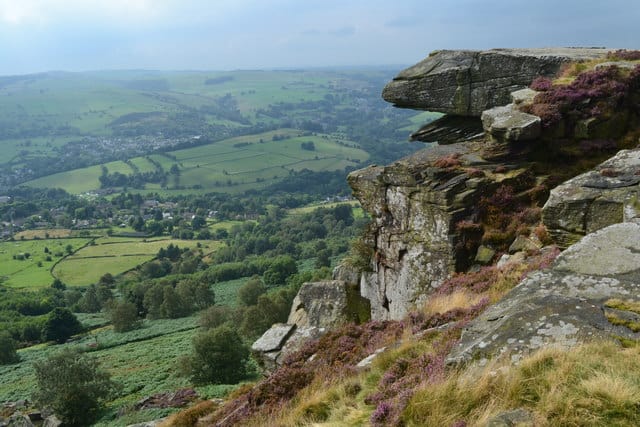 Curbar Edge is located above the village of Curbar, near Chatsworth House, and offers fantastic views over the village and surrounding countryside. You can reach it from Curbar Gap car park, and their's a well laid path at the top. It is part of the Curbar Ridge walk – a 7 mile walk which should take just a few hours. It's a great place for picnics or watching the sunset.
Black Rocks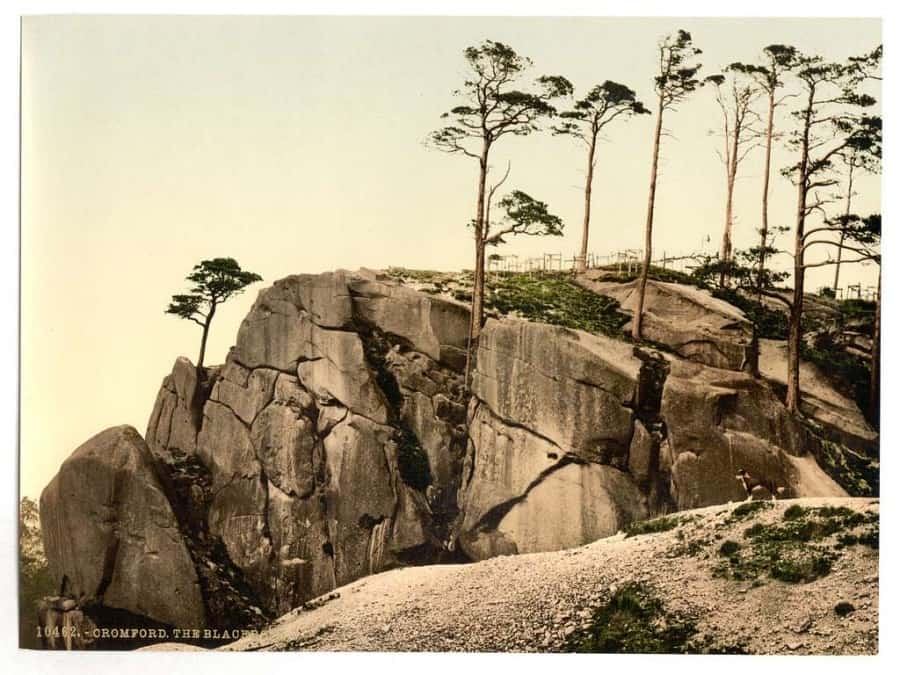 The Black Rocks at Cromford, just south of Matlock, are giant Gritstone Rocks situated close to some great deciduous and conifer woodland to explore. There's a pay and display car park and also a visitor centre with cafe – always good when out hiking for a rest and refreshment. Again, fantastic views from the top of the rocks.
Snake Woodland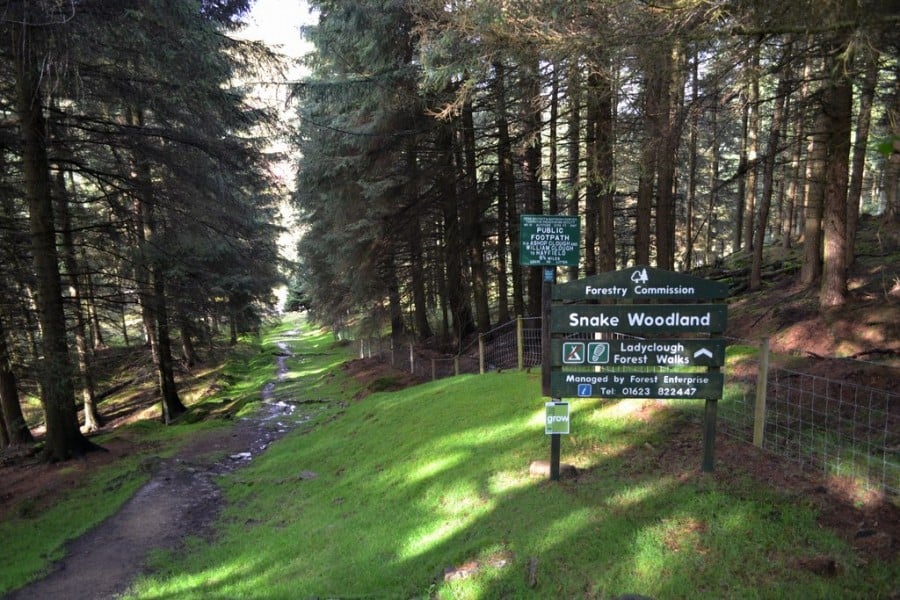 Snake Woodland is situated near Lady Bower Reservoir and the Hope Valley. It's a family-friendly place to visit, with a small car park, so recommended to get there early when exploring. As well as woodland, this countryside site boasts beautiful streams and many small waterfalls – perfect to introduce youngsters to the joys of nature. Good for bird watching too!
Thor's Cave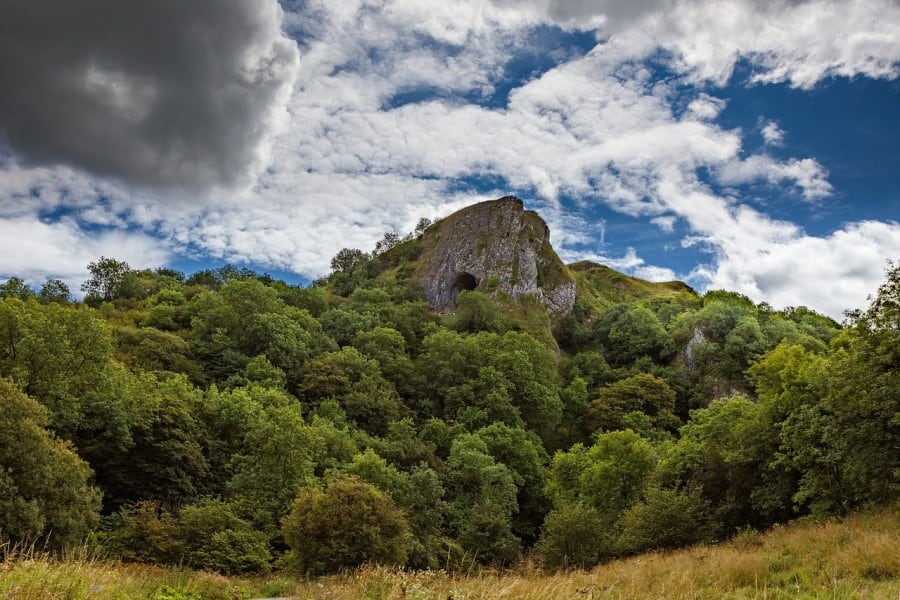 Thor's Cave is so named as legend has it that it was home to Thor, the Norse God of Thunder. It's found at Wetton, near Ashbourne in Staffordshire, and offers stunning views over the Manningford Valley. Human remains and tools have been found, although I can't guarantee they belonged to Thor. You can reach Thor's Cave from Wetton car park.
Parkhouse Hill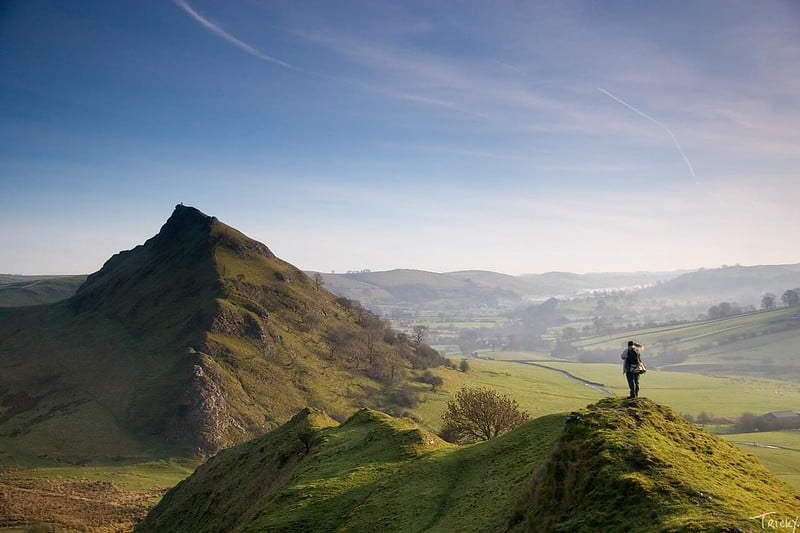 Parkhouse Hill is a limestone hill found south of Buxton. It doesn't have a car park and the walk up from the roadside is challenging, but well worth it for the fantastic views. A great one for early morning views, it sits opposite it's sister Chrome Hill – similar in height but with less distinctive features.
Castleton and Mam Tor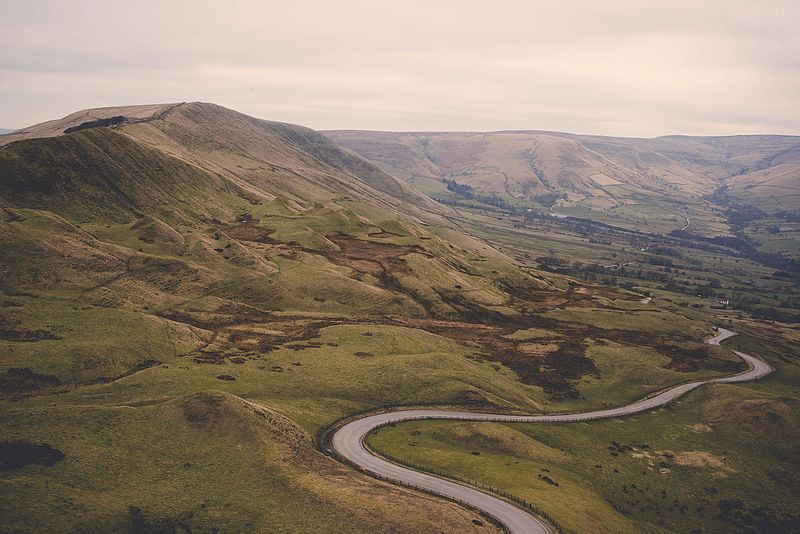 Castleton is a village in the Hope Valley area, but the surrounding area offers miles of scenic hiking routes. It sits in the area between the Dark Peak and the White Peak. Mam Tor, roughly translated as "Mother Hill", is the highlight of the area, and a huge favourite to hiking enthusiasts. Mam Tor has lots of loose shale, and in 1979 the road underneath was finally lost to a landslip. At 1696 feet in height Mam Tor offers breath-taking views – if you are lucky enough to get there for the early morning mist you could easily imagine you were in the Alps. Just one mile away is one of the great roads for driving – Winnats Pass – a scenic route through limestone gorge, with caves and walking paths on either side.
Conclusion – Stunning Places to visit in The Peak District
So there you go, a list of some of the fantastic places that make The Peak District such as haven for hikers. Where will you plan to go on your next trip to The Peak District?
More Inspirational Walks