One of our go to walks nearby when we don't have time to travel far is a walk starting at Groombridge on the Kent/Sussex border that heads along the old railway line towards East Grinstead and Three Bridges.
It's just a short drive from Nicky's house in Tunbridge Wells, so easy to get to, and starts in the lovely little village of Groombridge, which is home to a beautiful 17th century moated manor house, Groombridge Place

. (Nicky, in her work as a curtain maker

, has done some work for the owners here).
It's quite easy to walk for a couple of hours on the old disused railway line, but it's an out and back, which we try not to do too often, preferring a circular route as often as possible. In fact, one of the walks we do is a circular walk starting at Groombridge and heading out into the countryside before coming back via the old railway line.
Tunbridge Wells to Three Bridges Railway Line
The Tunbridge Wells to Three Bridges railway line was opened on 9th July 1855, and ran from Tunbridge Wells, Groombridge, Withyam, Hartfield, Forest Row, East Grinstead and on to Three Bridges in the town of Crawley, West Sussex – a distance of 20 miles.
Initially it ran from Three Bridges to East Grinstead, with the extension to Tunbridge Wells finally opening on 1st October 1866. Whilst it was never the busiest of lines, it did link the two towns and provided commuting between the two for work and leisure.
However it was axed as part of the infamous Dr Beeching report "The Reshaping of Britain's Railways" in March 1963. It's interesting to note that Dr Beeching actually lived in East Grinstead, although he was a first class ticket holder for the line from his town up to London.
The line remained open until it's last day on the 1st January 1967.
Spa Valley Railway
The line between Tunbridge Wells and Groombridge remained open until 1985, with it's last service on 6th July. In September of that year, the Tunbridge Wells and Eridge Railway Preservation Society (TWERPS) was formed in order to try and re-open the line. I remember reading about the struggles in the local newspaper, although as a working teenager I think the name kind of proved a focal point to my interest.
In the late 1980's Tunbridge Wells Borough Council passed planning permission for a large Sainsbury's on part of the site of the Tunbridge Wells West station, although it did insist on the building of a new platform and restoration of the engine shed, a listed building. This put paid to the restoration going all the way to the main central Tunbridge Wells station.
The Spa Valley Railway runs trains between February and October, allowing it's passengers access to tourist spots such as Groombridge Place, the High Rocks and the Pantiles in Tunbridge Wells. It is very popular with families with young children, allowing them the chance to relive the history of steam railways.
The Bald Explorer at Tunbridge Wells West Station
I found this video on YouTube from The Bald Explorer where he visited the old Tunbridge Wells West station – well worth a watch so I wanted to share on here:
Walking the line from Groombridge towards East Grinstead
As mentioned before, we prefer a loop when we go out walking. But sometimes this walk from Groombridge along the old railway line towards East Grinstead suits our needs. It's quite a dry walk, so if it has been raining lots over the previous week, and other nearby walks are going to be particularly muddy, then this does appeal.
Also it isn't far to get to, and whilst we love a drive out into the countryside, sometimes we can't afford to be out half the day, especially with Nicky running her own business.
It's a very popular walk with many young families or older friends, so there's usually plenty of people to greet along the way. Having said that, we are quite often out early, so we do miss a large proportion of the people.
It does also seem to appeal to people out jogging, and even more so to cyclists. Of course, being straight you can see the cyclists in the distance, so have plenty of time to get Paco under control. But sometimes the cyclists from behind are on you before you know it, and it is easy to get in their way if they don't warn you with a friendly ting on their bell. If you are out cycling, don't get upset with people who may not have heard you, give them ample warning!
Whilst it's possible to start near to the village centre, we tend to head a little further out where there's a layby along the London Road. This gives us a nice start with a small slope up and then a walk alongside some fields before heading into the tree-lined section that makes up the majority of our walk.
As we walk along Paco loves to scoot off ahead on the hunt for new smells and if he'd really lucky maybe a squirrel or two. We do meet other dog walkers, and occasionally horse riders, but he's pretty easy to tempt back with the promise of a slice of hotdog as a treat.
There's another road to cross, so it's lead on for a short distance, before we set off again. Before long we come across a bridge that carries a road over the old train line. Watch out here for a little puddle to one side – it can be pretty stagnant water, but does make a good wooshing sound as Paco runs through it. Although we can usually stop him these days…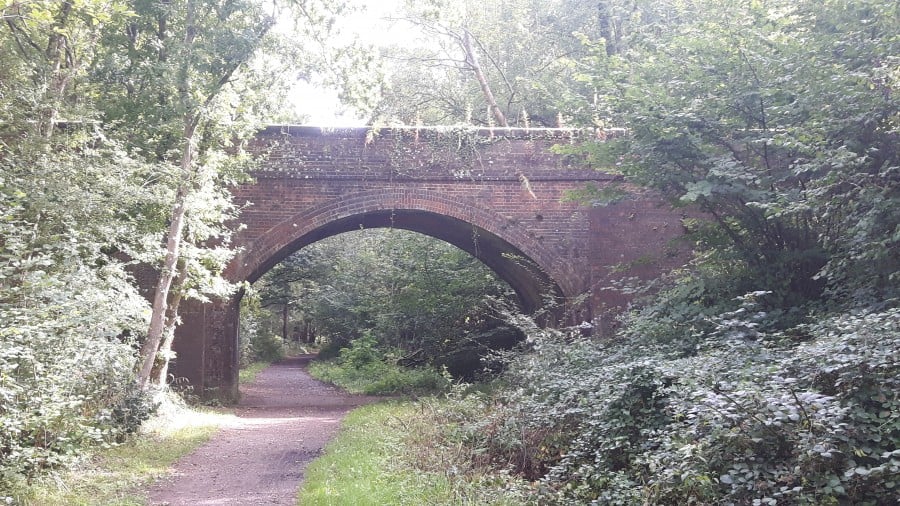 As we go on, we come across the old station at Withyam, This looks such a lovely old building, it would be great to turn back time and see it in it's glory days. Another smaller, quieter road to cross, takes you further along. We usually make it a kilometre or so past this, before heading back. One of the good things is that there's a picnic table with cycle stands next to it along this stretch – a nice touch!
The further you go of course the further back it is too. Generally speaking we can get a good 45 minutes to an hour out, and the same back. One day we are going to have to walk further, to see what we are missing. Maybe we can arrange to walk all the way to East Grinstead, but with a lift back…
Walking Britain's Lost Railways – the TV programme
I came across this programme one night by accident, as I was flicking through looking for something to watch on TV. Rob Bell, an engineer turned TV presenter, walks along 6 disused railway lines closed by the Dr Beeching cuts in the 1960's.
Bell looks at different aspects of the history and local stories that were made good by the railways, and the effect their closure had on the area. The series was first aired by Channel 5 in September 2018, and the episodes are as follows:
Moray line from Elgin to Portsoy – originally serving the whiskey and fishing industries in Scotland.
Woodhead line from Sheffield Victoria to Manchester Picadilly – steelworks, miniature railway, and musical tunnels!
Dartmoor line from Plymouth to Exeter – rabbit pie and the Ambrosia Cream Rice factory (one of my customers in the day job).
Penrith to Cockermouth line – ore mine and the Lakeland Motor Museum.
Somerset and Dorset Line – engineering stories at a high cost, and Arthurian legends.
Ruabon to Barmouth in North Wales – the highlight, literally, being the Pontcysylite Aqueduct.
It will be interesting to see if there will be a second season aired – I'll keep my eyes peeled.
* UPDATE *
The second series of Britain's Lost Railways has now been filmed by Rob Bell, and starts on 9th February, 2020. The railway lines featured in this second series are:
The Borders Railway from Edinburgh to Carlisle
Caernarvon & Llanberis Railway – also known as the "Slate Line"
The Deeside Railway from Aberdeen to Ballater
Manchester, Buston, Matlock and Midland Railway from Buxton to Matlock
The "Coal Line" from Sunderland to Hartlepool.
Britain's Hidden Railways by Julian Holland
I was lucky enough to come across a book that gives details of 50 of Britain's lost railways, so had to buy it. Britain's Hidden Railways by Julian Holland is organised by area, and gives a description of some of the railways that you can walk along, explaining some of the history of the line and when it was closed.
My plan is to take this with me when I go away in Britain, and see which of these are close enough to make a trip to. I think that they would make great walks out, away from some of the busier and well publicised walks.
So I thought I'd detail what I can, from the book. That way if you find one near to you, or to a place you are visiting, you can search it out.
| | | | |
| --- | --- | --- | --- |
| Railway Line | From | To | Distance walkable |
| Jersey railway | St Helier | La Corbiere | 7.75 miles |
| Camel Trail | Padstow | Wenford Bridge | 17.5 miles |
| Tarka Trail | Barnstaple | Meeth Halt | 24.75 miles |
| Princetown Branch | Dousland | Princetown | 9 miles |
| East Devon Branch | Exmouth | Budleigh Salterton | 4 miles |
| Strawberry Line* | Yatton | Witham | 12.5 miles |
| Somerset Central Railway | Shapwick | Glastonbury & Street | 4.5 miles |
| Colliers Way | Radstock West | Frome (outskirts) | 5.25 miles |
| Somerset & Dorset Joint Railway | Radstock North | Bath Green Park (outskirts) | 6 miles |
| New Forest* | Brockenhurst | Poole | 20 miles |
| Longmoor Military Railway | Longmoor Downs | Liss | 3 miles |
| Golfers' Tramway | Rye | Camber Sands | 1.5 miles |
| Cuckoo Trail | Heathfield | Polegate | 10.75 miles |
| Crab & Winkle Line | Canterbury | South Street Halt | 6 miles |
| Parkland Walk* | Finsbury Park | Alexandra Palace | 2.5 miles |
| Blackwater Rail Trail | Wickham Bishops | Langford & Ulting | 2 miles |
| Marriott's Way | Aylsham | Norwich City | 24 miles |
| Bure Valley Trail | Wroxham | Reepham | 8.75 miles |
| Water Rail Way* | Lincoln | Boston | 17.5 miles |
| Bedford to Sandy Country Way | Bedford | Sandy | 8.5 miles |
| Wye Valley Walk* | Chepstow | Ross-on-Wye | 5.5 miles |
| Forest of Dean | Coleford | Cinderford & Whitecroft | 12.25 miles |
| Birmingham & Gloucester Railway* | Great Malvern | Ashchurch | 1.5 miles |
| High Peak Trail | Dowlow Halt | High Peak Junction | 17 miles |
| Tissington Trail | Ashbourne | Dowlow Halt | 13 miles |
| Monsal Trail | Bakewell | Millers Dale | 8.5 miles |
| Chesterfield to Lincon | Fledborough | Lincoln (outskirts) | 11 miles |
| Wirral Way | Hooton | West Kirby | 11.5 miles |
| Oystermouth Railway | Swansea Bay | Mumbles Head & Gowerton | 10 miles |
| Swiss Valley | Cross Hands | Llanelli (outskirts) | 11 miles |
| Heads of the Valleys Line | Brynmawr | Abergavenny Brecon Road | 7 miles |
| Ystwyth Trail* | Aberystwyth | Pencader | 15.25 miles |
| Mawddach Trail | Barmouth | Dolgellau | 7 miles |
| Lon Eifion | Caernarfon | Bryncir | 12 miles |
| Islo of Man Steam Heritage Trail | Douglas | Peel | 10 miles |
| Manx Northern Railway | St John's | Selby Glen | 12 miles |
| Foxdale Branch | St John's | Foxdale | 2.5 miles |
| Trans-Pennine Trail* | Hadfield | Wortley | 10.5 miles |
| Cinder Track | Scarborough | Whitby West Cliff | 21 miles |
| Whitehaven, Cleator & Egremont Railway | Corkickle | Rowrah | 8.5 miles |
| Bowes Railway Path | Tanfield | Jarrow | 10.5 miles |
| Tees Valley Railway walk | Middleton-in-Teesdale | Cotherstone | 6 miles |
| South Tyne Trail | Alston | Haltwhistle | 13 miles |
| Lochwinnoch Loop | Kilbirnie | Johnstone (North) | 10.75 miles |
| Paisley & Clyde Railway Path | Houston | Lynedoch | 13 miles |
| West Fife Way | Dunfermline (Upper) | Forest Mill | 14 miles |
| Tayport to Tay Bridge Cycle Route | Tayport | Wormit | 4.75 miles |
| Formartine & Buchan Way 1 | Dyce | Peterhead | 37.5 miles |
| Formartine & Buchan Way 2 | Maud Junction | Fraserburgh | 16 miles |
| Dava Way | Forres | Grantown-on-Spey West | 13 miles |
*these lines have multiple walkable sections – distance not all in one go
If you want to buy the book, you can do so here

from Amazon.
Further Reading
If you'd like to explore lost railway lines in your own neck of the woods, then I would recommend Lost Railway Walks: Explore 100 of Britain's Lost Railways by Julian Holland. I've searched for books to add to my Christmas list, and in reviews this one comes out on top. You can buy it here on Amazon

.

Recent Posts