Take a break from the hustle and bustle of London by discovering untamed beauty in Sevenoaks. Feel your stress melt away as you explore gentle hills on rolling chalk grassland, winding trails along tranquil woodland pathways or peaceful river valleys with mesmerizing views of nature right at its finest. Spring is especially delightful when 'the Garden' blooms to life! Be amazed all while only being half an hour's train ride away – priceless!
Sevenoaks offers visitors a glorious glimpse into its past, with stunning castles, grand manor houses and neatly-manicured stately homes dotting the town's horizon. An exquisite floral spectacle that has been lovingly nurtured for centuries is waiting to be explored – take your pick of any serene spot in Kent's 'Garden of England' and revel in an adventure through historical architecture!
Eynsford to Shoreham and return walk
7.4 miles – 3 hours walking plus time at Lullingstone Castle or Eagle Heights
Eynsford is a lovely village in the countryside, and is easily served by train from Sevenoaks, which makes this walk a must-do when staying in the town.
Starting at Eynsford rail station, head up into the hills to get some great views overlooking the village, including the railway viaduct. This walk then takes you down the lane towards Eagle Heights

, one of the UK's largets bird of prey centres. Head less than a mile down to Lullingstone Castle

– I'd recommend finding time to visit it's World Garden designed and looked after by Tom Hart Dyke. From there you walk towards the lavender fields near Shoreham – these are a great landmark in summer when travelling by train to London and just breathtaking. Next it's into Shoreham village, which is one of the prettiest villages you could come across, and see the house where landscape artist Samuel Palmer lived from 1826 to 1835. After a look round the village re-trace your steps back towards Eynsford and the train back to Sevenoaks.
One Tree Hill to Ightam Mote loop walk
4.8 miles – 2 hous walking plus time at Ightham Mote
One Tree Hill in Sevenoaks offers some spectacular views over the Sevenoaks Weald at the start of this walk, and Ightham Mote

is a lovely example of a 700 year old medieval manor house owned by the National Trust.
Best accessed by car, although you should be able to get a bus from the town centre bust depot, One Tree Hill can get boggy in winter, so this walk is best from Spring onwards. The first couple of miles walking through the countryside offer great vistas, before heading downhill towards Ightham Mote. Spend some time looking round this manor house and grounds, including the huts designed for hop-pickers. As you head back towards the start point you'll get chance to stop by a pond where you can take a moment to watch nature before heading up the incline. Just over a mile and a half later you'll be back at the starting point, Fawke Farm House.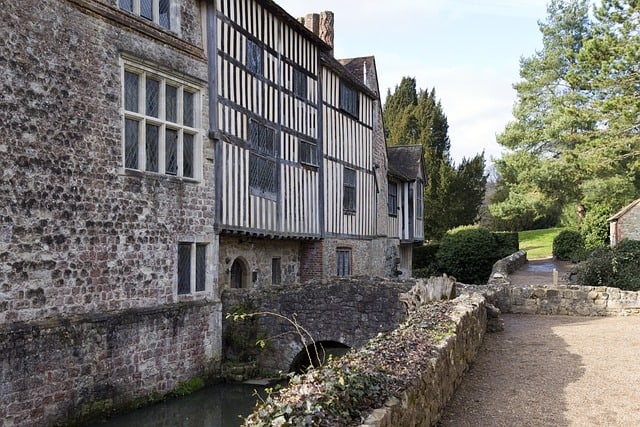 West Kingsdown to Otford Loop walk
7.7 miles – 3.5 hours
Otford is a lovely village just outside Sevenoaks and is well worth a visit. Whilst you could start here if using public transport, the views at the start in the countryside West Kingsdown and Shoreham are breathtaking.
Starting at Upper Austin Lodge Road, you soon head onto a gravel path towards Round Hill. Pass between here and the Romney Street Airstrip, rising steadily. Keep along the path before reaching Birchin Cross Road, where you turn right and head towards Otford where you find another footpath at the junction with Rowdow Lane. As you head towards the village you get some amazing views. Once you've crossed the train line and walked long Station Road take the time to divert to Otford Palace before reaching the beautiful pond that the village is famous for. As you head up Park Lane head into the Recreation Ground to see The Otford Solar System

, a scale model of the planets. Head up the path towards Shoreham, but turn right away from there and back over the railway line before heading towards Gold Hill and the return to the start.
Chartwell House to Westerham and Hosey Hill loop walk
5.9 miles – 2.5 hours ples extra if visiting Chartwell House
Chartwell

is located south west of Sevenoaks, close to Westerham and Crockham Hill. It was the home of Winston Churchill, and it's where he painted in his studio. Owned and looked after by the National Trust, it's a great place to visit and learn about one of our greatest leaders. After looking round the house and gardens, cross the road to locate the footpath. Doubling back to the right you climb 200 metres to get a great aerial view of Chartwell. Once you near the peak you turn left sharply, cross over Hosey Common Road and head eastwards. Follow the footpath northwards, running almost parallel to Goodley Stock Road. You'll get some lovely views as you approach Westerham, where you get into the town centre and study the statue of Churchill on the green. Once you've had a good look round the town, you head south east towards Hosey Hill. Cross over the road again and head south east make your way back to the starting point.
Knole Park loop
5.2 miles – 2.25 hours
This is a 5 mile clockwise walk around the outskirts of Knole Park

, the birthplace of Vita Sackville-West, starting at The Brewhouse Cafe. Head north-east as you explore the vast Knole Park, keeping your eyes peeled for the wild Sika and Fallow deer that roam the estate. Look out for the deer rangers who will help you with any information you need to know. Whilst the highlight will be spotting the deer, this is best done from afar, as they can attack, especially if you try to give them food! You'll see many different species of tree in the woodland areas, including horse chestnut, sweet chestnut, oak, beech and hawthorn. Listen for the woodpeckers that live among the trees. If you are walking near dusk then you may well find that you see bats as well.
Check out what Kent Live

and Kent Downs

have to say about Knole Park. There's also a family oriented walk of the same distance, and a slightly shorter wooded ramble.
Conclusion – great walks in and around Sevenoaks
Sevenoaks is a great place when you're looking for a long weekend away. It's the ideal spot for nature-lovers to find stunning scenery, as these 5 suggested walks will show you. Everything from Eynsford to Shoreham and return, early sunset at One Tree Hill with Ightam Mote loop walk, West Kingsdown to Otford Loop walk, Chartwell House to Westerham and Hosey Hill loop walk, or the peaceful green of Knole Park. Choose Sevenoaks as your base for a hiking holiday in Kent and make the best use of your time by visiting some of these wonderful sites along the way.
Recent Posts