Nature is calling, and it's time to answer! There's no better way to bask in the beauty of Mother Nature than by stepping out into the great outdoors. If you're looking for a hiking experience that's unique and at the same time, offers unparalleled scenery, you should try hiking on British beaches.
The UK coastline is dotted with numerous hiking trails that offer endless possibilities to explore the country's natural beauty. The journey can be physically challenging, but ultimately, it's a great way to connect with nature. In this post, we'll discuss the best beach hikes in the UK, the benefits of hiking on beaches, tips for staying safe, and the gear you'll need for a successful adventure.
An Overview of the Best Beach Hikes in the UK
Wales, with its stunning natural beauty, boasts over 870 miles of dramatic coastline that provides some of the most scenic walking routes in the United Kingdom. Completing the entire walk is an epic journey that takes several months, but the experience is worth it. Along the way, you'll discover hidden coves and bays, isolated beaches and lagoons, rugged cliffs, and stunning views that will take your breath away. Some of the most thrilling coastal locations with significant hikes include the Llŷn Peninsula, with its wild and unspoiled landscape, the Gower Peninsula, known for its hidden beaches and bays, and Pembrokeshire, with its scenic coastal footpaths that offer stunning views of the Irish Sea.

For adventure enthusiasts, Scotland offers one of the most thrilling coastal hikes on the 117-mile Fife Coastal Path. This path offers a blend of rugged cliffs, pristine beaches, and picturesque fishing villages that are sure to take your breath away. The route has a variety of terrain to keep you engaged and is a great way to explore some of Scotland's most iconic coastal landscapes.

If coastal walks pique your interest, then the 200-mile South West Coastal Path in England is a must-do. The trail passes through Somerset, Devon, Cornwall, and Dorset, offering stunning views of the English Channel. As one of the country's most impressive walking trails, the South West Coastal Path is great for anyone looking to reconnect with nature and explore the beauty and rich history of the coastline.
Benefits of Hiking on Beaches, including Improved Physical and Mental Health
Engaging in hiking is very beneficial to both physical and mental well-being. Notably, taking your workout to beaches can provide you with the added advantage of breathing in the refreshing ocean breeze. If you have asthma, the introduction of saltwater air may bring further relief to your condition, whereas those with seasonal affective disorder (SAD) can benefit from the abundance of natural light.

Walking and taking in all that nature has to offer can create a truly rejuvenating experience, allowing all your senses to align. In this natural, tranquil atmosphere, you will find yourself becoming more attuned to your inner thoughts, leading to reduced stress levels, clearer thinking, and improved memory and learning capabilities. Best of all, the gorgeous scenery can make this all a very enjoyable experience!
Tips for Staying Safe While Trekking Through Natural Beauty
Hiking on beaches may seem like an easy and fun activity, but it comes with its share of dangers that should not be taken lightly. It is always important to take necessary precautions to avoid accidents and stay safe.
One of the most critical things to keep in mind when planning a beach hike is to stay aware of the tide timings. It is highly recommended to research and plan your hike around the tides, so that you have sufficient time to make your way back before the tide comes in and traps you on the beach. This not only ensures your safety but also prevents any damage to the natural environment, which can be severely affected by careless hikers.
Apart from this, it is advisable to keep a well-stocked first aid kit with you at all times, as it can come in handy in case of any untoward incidents. Also, be prepared for any weather conditions that may arise, as beaches can get very windy and chilly at times. Wearing appropriate clothing and carrying extra layers can go a long way in preventing any discomfort.
When hiking on beaches, it is always better to stick to the marked trails. This not only helps you to avoid any dangerous areas but also ensures that you don't accidentally trespass through private land. Furthermore, it is recommended to hike with friends or in a group for added safety. In case anything happens, you'll have someone to rely on for help.
Lastly, it's a good practice to leave your itinerary and route details with someone who is not accompanying you on the hike. This way, in case you fail to return at the expected time, your contact person can alert the emergency services and help track you down promptly. It's always better to be safe than sorry!
Must-See Locations for an Unforgettable UK Beach Hike
Experience the stunning beauty of the Welsh coast on the Pembrokeshire Coastal Path hike, which spans 186 miles of rugged cliffs, hidden coves, and white sandy beaches. While on the trail, don't forget to catch a glimpse of the breathtaking sand dunes!

If you're looking for a hike that features mesmerizing rock formations and secluded beaches, the Jurassic Coast in Dorset is a must-visit. The 95-mile stretch offers hikers a chance to take in the beauty of a UNESCO World Heritage coastline and marvel at the natural wonders that surround them.

For a scenic hike that beautifully captures picturesque fishing villages and stunning coastal views, the East Devon Coastal Path is the perfect choice. With a pebble beach and breathtaking vistas of the historic Jurassic Coast, this hike is a truly unforgettable experience.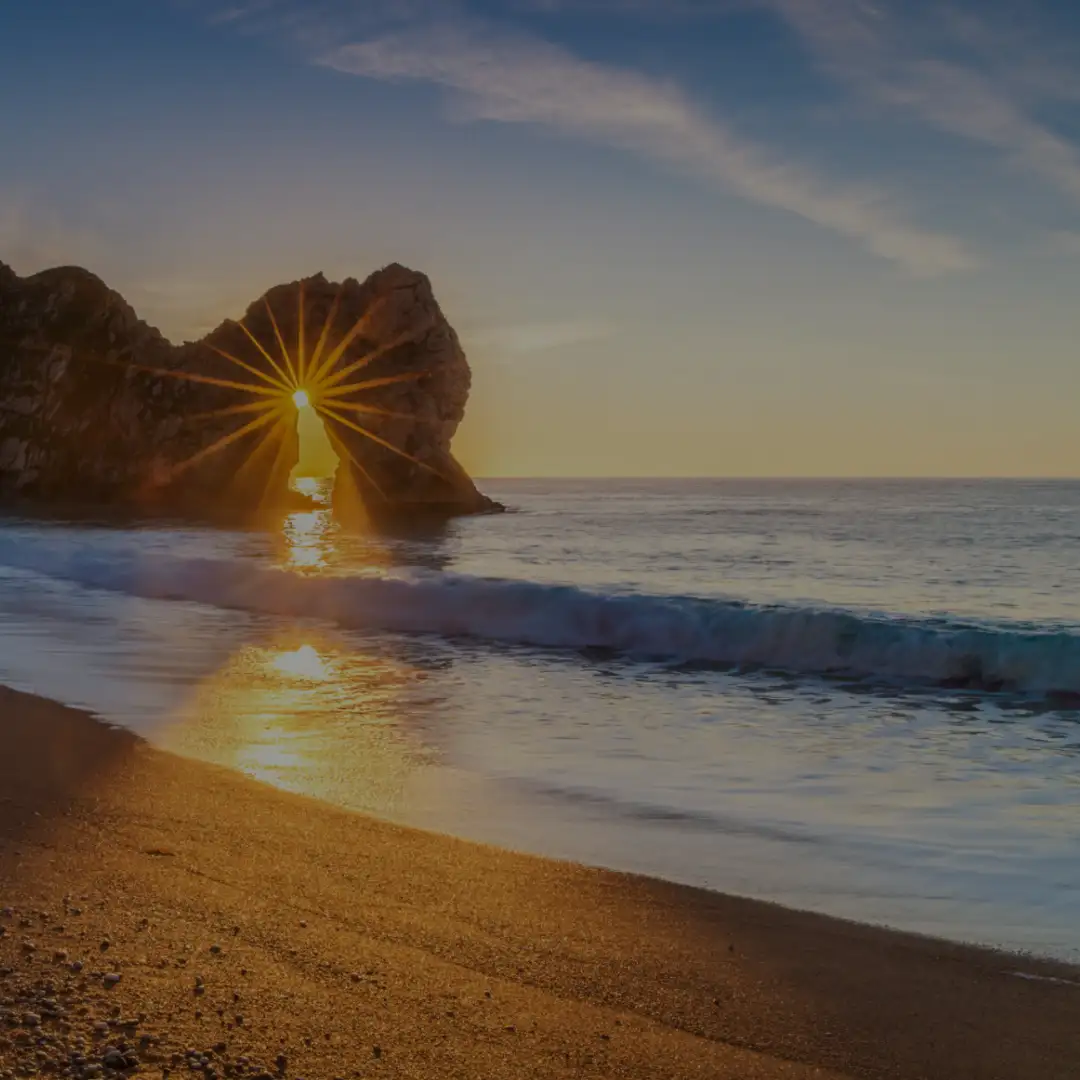 The Gear You'll Need for a Successful Beach Hike Adventure
When preparing for a beach hike, safety should be top of mind. Wearing the right shoes is critical – choose comfortable, robust, and waterproof ones to avert injury. Navigation is key too! Bringing a good map or GPS device ensures you can navigate the terrain with confidence, even on paths which are unfamiliar.

To enjoy your hike to the fullest, pack snacks, plenty of water, and other essentials such as sunscreen, hats & clothing layers to adjust to a variety of weather conditions. Don't forget to carry a backup phone charger in case your battery runs low.
Finding Your Inner Zen With Sea Views and Fresh Air
Beaches have always been known for their serene and calming aura that helps us unwind and rejuvenate. But did you know that beaches can also be exploratory gateways that can satiate the craving for adventure and thrill?
Merging the best of both worlds, hiking on beaches provides an opportunity to experience nature in a unique and invigorating way. With the rhythmic sounds of lashing waves, fresh salty air to breathe in, and the rugged terrain to explore, beaches make for a great destination for hiking enthusiasts.
For the ones in the UK, there are plenty of options that offer an unscathed natural beauty for beach hiking, waiting to be explored.
Tips for Making the Most of Your Beach Adventure
When it comes to hiking on a beach, it's important to consider the tides. Many beaches across the UK have significant tidal ranges that can completely change the landscape and accessibility of the beach. So be sure to research the tide times for your planned hike and be prepared to adapt your route accordingly.
Another tip is to wear appropriate footwear. Beaches can have uneven and slippery terrain, so sturdy and comfortable footwear is a must. You may also want to consider wearing waterproof shoes or sandals as your feet may get wet from the sea or streams.
How to Pack Light and Stay Safe on a Beach Hike
When you're heading out on a hike along the beach, it's essential to pack light, but also ensure that you bring all the necessary tools and equipment to guarantee your safety. A first aid kit should be right at the top of your list, as well as a map and a compass. Also, don't forget the sunscreen to protect your skin from the scorching sun, and a whistle to signal for help, should you need it.

Along with these essential items, you'll also want to bring a lightweight backpack that you can use to carry your water, snacks, and other essentials while on the trail. Dressing appropriately is also crucial for your hike. You'll want to wear comfortable and breathable clothing and dress in layers so that you can modify your temperature as needed. And last but not least, always make sure to check the weather forecast before setting out, as beach weather can be unpredictable.
Finding the Perfect Map and Equipment for Your Beach Hike
Planning a beach hike? Don't worry, there's a wealth of resources available to help you prepare! You can start by consulting guidebooks, maps, and online resources, but it's important to look for materials that specialize in beach hiking. These resources will give you valuable information on tides, weather, and terrain, helping you plan a safe and enjoyable hike.

To help ensure your safety, consider investing in a pair of hiking poles. These can provide extra balance and stability on rocky or slippery terrain, making it easier to navigate the uneven surfaces often encountered on beach hikes. With the right preparation and equipment, you can enjoy all the beauty and adventure that beach hiking has to offer!
Keeping Track of Where You've Been with a Journal or Camera
Finally, don't forget to consider bringing a journal or camera to document your beach hiking adventure. The stunning views and unique landscapes that accompany beach hikes make for wonderful memories that you'll cherish for years to come. Plus, a journal can also help you track your progress, write about the highlights of your trip, and reflect on the experience; all of which can serve as a valuable reminder of your beach hiking experience.
Conclusion: hiking on British beaches
Hiking on British beaches offers a unique outdoor adventuring experience with nature's beauty right at your feet. Whether you're a seasoned hiker or a beginner explorer craving a dose of adrenaline and rejuvenation, hiking on British beaches is a great choice. The stunning views, invigorating saltwater air, physical, mental and emotional benefits offered by beach hiking cannot be found anywhere else. Follow these expert tips and the gear recommendations from this blog to ensure your hike is memorable, fun, and safe.
Recent Posts