The more I read up and learn about walking in different seasons, the more often I hear people say that gaiters are essential equipment for people walking or hiking. And having got very muddy the other day, I thought I best do some more investigation. Reading in various forums and groups I kept seeing gaiters mentioned, so it made me ask will gaiters keep my trousers clean and dry?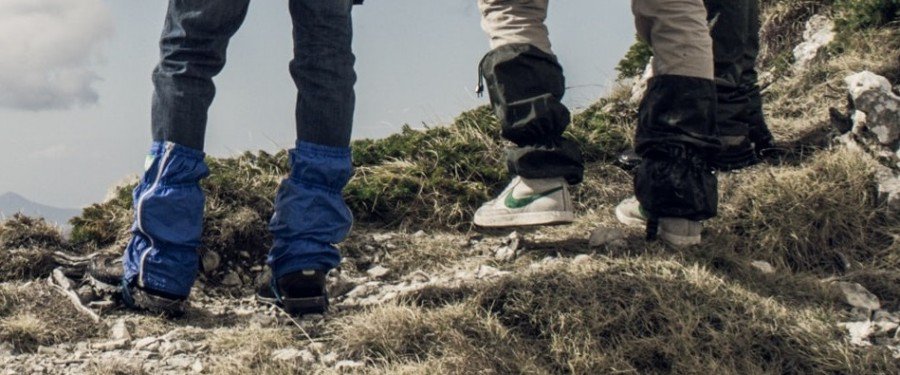 What are gaiters, and will they keep my trousers clean and dry?
Gaiters are waterproof sleeves that go over your boots and ankles, mostly up to just below the knee, although you can get ankle gaiters too. They are designed to keep moisture out of your boots and from soaking your trousers.
So if you are likely to be walking through snow or long wet grass, then a pair of gaiters will help to keep your trousers dry. They also keep your trousers protected from mud and brambles too.
You could use wellies for the same job, but many people find walking in wellies difficult, especially if walking more than a mile or two.
How do you put on gaiters?
Put on your gaiters after putting on your trousers and boots. It's probably best to first do this at home so that you don't have to adjust them when out in the rain.
Open the gaiters out and having made sure that the stirrup strap is attached on both sides, slide it under your heel so it sits just before the heel section on the bottom. It's important to remember to have the buckles on the outside, so that they aren't rubbing against each other on the inside when you are walking.
If they have one, pull the zip on the side a few inches, and you can then start to pull the velcro together. Attach the clip into the bottom of the laces. These actions together will ensure that the bottom of the gaiter is in the correct place.
Pull up the rest of the zip and then continue to pull the rest of velcro together. Some gaiters will not have a zip but just velcro on the front flap. When this is done you can then pull the elastic cord tighter at the top. Make sure it's tight enough to hold but not too tight that it will cause you discomfort. You may also have a popper at the top of the gaiter to keep it secure.
Before you set off make sure that the gaiter is nice and snug against your boot at the bottom.
This video from REI does a great job of showing you how to put gaiters on:
Are gaiters waterproof?
Gaiters are made from synthetic fabrics that are lightweight and will repel water. They often have a water repellent finish applied to the exterior. I'd recommend applying a waterproofing spray after every few washes to keep them working properly.
Do gaiters keep your feet dry?
Gaiters should keep your feet dry when walking. If you are wearing a boot then these will be covered quite a lot, but if you are wearing a walking shoe then there is more of a chance that there will be a gap between the gaiter and shoe around your ankle.
Obviously if you submerge your whole foot in water then there is a chance that water will seep in through the material of your shoe or boot

, but this depends greatly on how waterproof your footwear is. Keeping boots waterproofed will help a great deal.
Do I need gaiters as well as waterproof trousers?
Gaiters do a great job of keeping your feet and trousers dry when walking through snow, long grass or puddles, but if it starts raining whilst you are our, obviously the tops of your trousers are going to get wet and uncomfortable.
Therefore it's wise to be carrying a pair of waterproof trousers in your rucksack, especially if rain is forecast.
You would put your walking trousers over your gaiters, rather than taking the gaiters off, putting your waterproof trousers on, then putting the gaiters back on. As well as the time it would take, at a time when you don't want to be faffing around in the rain, gaiters over the top make the trousers less effective.
Why would you wear gaiters in dry weather?
Gaiters are not just for winter though. Obviously we have rain all year, especially in the United Kingdom, but you can also wear gaiters in dry weather.
You would choose to wear gaiters in dry weather if you were walking somewhere with lots of small stones like gravel, or dry dusty dirt, which if they get into your boots through the gaps between the tongue and upper. Walking with bits in your boots could cause blisters and discomfort, and frequently stopping to remove them is a nuisance too.
Gaiters also act as protection for your trousers when walking near brambles and bushes. Gaiters can also protect against ticks, which if they bite you can cause Lyme disease

.
This is why many experienced walkers wear gaiters all year round.
What should I consider when buying gaiters?
The main thing to consider when buying gaiters is that there is a good chance you will feel hot around the lower leg and ankle. Now if walking in winter snow this may help you to keep warm, but if it's not too cold then you may find wearing gaiters is too hot for you.
Therefore we suggest that you choose a pair of Gore-Tex gaiters, which will help by keeping your leg cooler.
Do gaiters come in different sizes?
As we have already stated, you can get ankle gaiters as well as gaiters that will go up your leg and cover your calf muscles. These also come in different sizes with the better quality makes, based on height and shoe size. Although I am tall, have big feet, but skinny legs, so if you are like me I'd recommend seeking professional advice from your local hiking store.
More tips when using gaiters
If you are climbing mountains or using walking poles, be careful where you stick your crampons or poles and that you don't get them caught in the strap. Whilst it would be highly unlikely, it could also be potentially very dangerous.
It is possible to get gaiters with laces underneath to tie up, but whilst rare, it is best to get a nice solid neoprone strap. Laces would just get too muddy and difficult to undo after a walk and keep clean.
It is possible to wash gaiters in a washing machine with most pairs, but I'd recommend hand washing them in a bowl of warm water and mild detergent, and using a sponge or small soft brush to remove dirt and debris. make sure that any mud is removed from straps, buckles and poppers. Leave them to dry naturally. Spray them with a waterproofing spray after every few washes.
---
Which gaiters did I buy, and other recommended gaiters
So this is the set of gaiters that I chose to buy.
Trekmates Rannoch Dry

Waterproof and windproof gaiters made of ripstop nylon with dry membrane.
Lightweight construction with adjustable underfoot strap and one-handed lacing.
3 sizes
Zip and velcro front closure
Trekmates brand quality
Buy Trekmates Rannoch Gaiters on Amazon

---
Here's a few other gaiters that we have researched and we would recommend.
HKBTCH Walking Gaiters

Premium Material: Windproof, Waterproof, Snowproof and Durable, Keep Dry and Warm. Prevents mosquito or snake bite and keeps your legs warm.
Adjustable top elastic bands, front opening velcro, shoelace buckle, adjustable bottom buckle, easy putting on and taking off.
Practicability: With the adjustable elastic band and snap fastener more convenient, effectively keep snow, mud, sand, dew and bugs out of your boots or socks.
Light weight, long service life, very convenient to carry.
Perfect for any outdoor actives, Hiking, climbing or hunting.
Buy HKBTCH Gaiters on Amazon

---
Qshare Leg Gaiters

Superior protection from dirt, ticks, water, rain, bushes, thorns, and rocks.
420D Tear resistant material with 3-layers of strong water repellent and polyurethane coating helps shed moisture when stepping in puddles or backpacking through rain or snow.
Breathable nylon material makes these high gaiters great to use even in the warmer months. Excellent waterproof: 5000mm; snow-proof.
Front opening velcro makes it easy to put on and take off. The hook and loop tabs at the bottom prevents separation while in use. Easily adjust the top strap, instep strap, and boot lace hook to tighten up the gaiters.
Lightweight and compact enough to easily fold up and store them in your backpack.
Buy QShare Gaiters on Amazon

---
Berghaus GTX II Gaiters

Gore-Tex upper.
Knee length design to keep your lower legs protected from the elements.
95% Synthetic, 3% Biothane Belting, 2% Metal Eyelet.
Adapt the size of the gaiter to fit your needs with an internal volume adjuster draw cord.
Comes with a reflective trim on the rear of the gaiter to keep you visible when in the dark.
Buy Berghaus GTX II Gaiters on Amazon

---
Conclusion – Will gaiters keep my trousers clean and dry?
As you will have seen in this article, gaiters will go a long way to keeping your trousers clean and dry. Obviously if you find yourself needing to traverse a stream or you end up slipping over in mud there is only so much that gaiters can do, but for most hiking they will be perfect for the job.
Read More