If I challenged most of my friends to walk 1000 miles they would look at me as if I was mad and tell me where to go. But there's a whole community of people who take up the Walk 1000 Miles Challenge each year, and I am part of that now!
So what is the walk 1000 miles challenge?
The Walk 1000 Miles Challenge is an annual challenge set up by Country Walking magazine, and quite simply is to walk at least 1000 miles in a year. This may sound like a lot, but it equates to just 2.74 miles per day, which is a far more realistic target for most people.
See, 2.74 miles, not far at all. So this should be easy, right? For most of you reading this blog you are obviously interested in walking, so this would not be too much of an issue for you. But for lots of people, living the modern day sedentary lifestyle, it may not be so easy.
And in 2020, I have struggled. The whole Coronavirus pandemic has seen me swing from high to low, often in the same day, and as such my whole walking routine has been thrown somewhat. Working from home, living alone, I have gone from wanting to get out and walk for my sanity sake, or wanting to curl up and not face anyone. But I am determined to get there, and am just about on track.
Sounds interesting, but how long would it take to walk 1000 miles?
Well obviously everybody is different, as they have different amounts of time they can commit to walking, and so there is no set time, although obviously the challenge is for a whole year. But there are some members of the Walk 1000 Miles Facebook group who fit in several hours each and every day, so complete 1000 miles in just 4 months, and there are others that struggle to get to the finish target.
Here's a table of how long it would take given various hours per day:
| | | |
| --- | --- | --- |
| Number of Hours Per Day | Walking at 2 miles per hour | Walking at 3 miles per hour |
| 0.5 hours | 1000 days / 142 weeks / 33 months | 667 days / 95 weeks / 23 months |
| 1 hour | 500 days / 71 weeks / 17 months | 333 days / 48 weeks / 12 months |
| 1.5 hours | 333 days / 48 weeks / 12 months | 222 days / 32 weeks / 8 months |
| 2 hours | 250 days / 36 weeks / 9 months | 167 days / 24 weeks / 6 months |
| 2.5 hours | 200 days / 29 weeks / 7 months | 134 days / 19 weeks / 5 months |
| 3 hours | 167 days / 24 weeks / 6 months | 111 days / 16 weeks / 4 months |
| 3.5 hours | 143 days / 21 weeks / 5 months | 95 days / 14 weeks / 3.5 months |
| 4 hours | 125 days / 18 weeks / 4.5 months | 84 days / 12 weeks / 3 months |
How long to walk 1000 miles – Walking Academy
So you can see from the above the rough amount of time that it will take depending on how fast you walk and how much time you can commit every day. Of course, not every day is the same, maybe at weekends you can afford 4 hours on both days, but only half an hour during the week due to work and family. So try to work out the number of hours you walk during a whole week into a daily average.
How far can you walk in an hour?
In the table above I have put down 2 miles and 3 miles as most people will fall within these figures. 2 miles is 30 minutes per mile – a good pace allowing for photographs to be taken and maybe a picnic stop if it's a long walk. 3 miles in an hour is more of a constant march, but not too strenuous to someone who hikes regularly – 20 minutes can be achievable once you are used to it.
That's why country Walking magazine say that if you break it down to 2.74 miles each day, on average, then it is achievable in just under an hour a day. And we could all find an hour per day if we really try hard.
Do you need to register to take part?
It's not necessary to register to take part in the Walk 100 Miles Challenge – I don't. But you can, there is a dedicated website

for it. It is a great website, and provides plenty of inspiration to keep you on track – perhaps I should have visited myself much more.
If you want to sign up officially head over on the link above to do so. They only ask for your full name and an email address. If you tick the box to receive regular updates you'll receive their newsletter by email, which will help keep you on track and motivated. It also will contain offers from their partner companies and competitions – hey, you may get lucky and win something great, which will help you on your journey.
Measuring and logging the miles you walk
In order to walk 1000 miles in a year, you need to know how many miles you walk each day. You may decide to buy a fitness tracker to wear on your wrist, you may be old school and use a pedometer, or you may use an app on your phone. But it's important to know the distance you walk each day.
If you are like me (in normal years), and try to walk as much as possible in your day to day life, then you may well get to 2.74 miles anyway, or certainly some way towards it. Although you may only want to log miles that you physically go out walking – known in the Walk 1000 Miles community as "boots on miles".
The second part of this is logging the miles you walk every day. It's best to log every day or every few days, if you are using technology to measure the miles and can store previous days. You may want to log in a dedicated notebook, a spreadsheet on your computer, or maybe a journal where you also write details of where you walked, the conditions, anything that you came across which made you smile. This would be a great record of walks you can look back on and remind yourself of the fun you have.
If you buy the February edition of Country Walking magazine (out in January) there is a chart which you can use to log miles. I subscribe to the magazine and pass the chart to Nicky for her to record her miles – especially as she does so many more than me. It has become part of her bedtime routine, sitting in her bedside cabinet.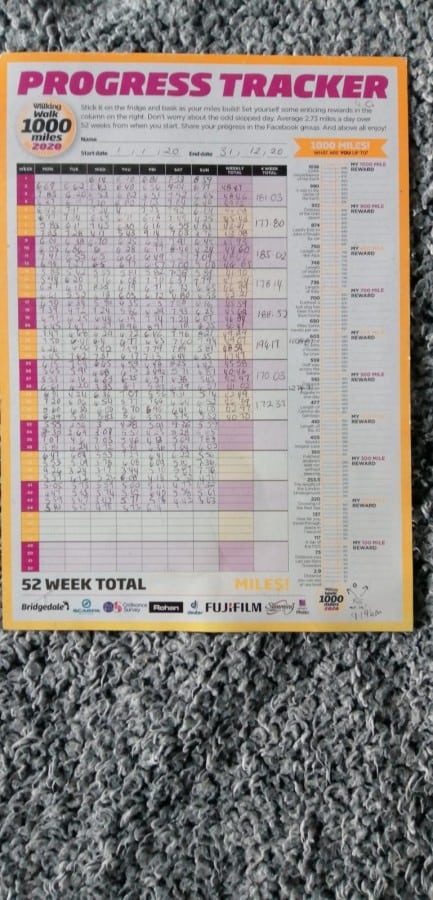 Alternatively, you can find some downloadable charts, including one designed for children, by going to the charts page

on the website.
What I use to measure and log miles
I have an app on my phone called Pacer, which counts the number of steps I take, calculating distance walked each day. It stores that information for up to 1 year, but I still try to log those miles manually as well – I don't want to lose the information in case I lose or break my phone, or something happens to the app.
Last year I purchased the Country Walking calendar. Quite simply it's the best calendar I have ever owned – beautiful pictures of lovely walks to inspire you, and each month has a Tip of the Month section which is informative, suggested things to do or look out for, and a quote. But more importantly, each day not only has space to write your daily tasks or places to be as usual, but it also has a box to log your miles walked. It then has weekly total boxes on a Sunday, and each month has a monthly total and year to date. Logging miles has never been easier!
Can you log miles online?
Quite simply, if you register on the Walk 1000 Miles website, you can also log in and record your miles there. I did use this last year – but with the calendar felt I didn't need to use this year. But I would certainly recommend it.
Log in, go in under resources to the Log Your Miles page, enter the date and miles walked for the day, and it will calculate for you the total miles walked so far and he miles you have left to complete the 1000. It also calculates an average miles walked so far along with average you need to walk each day to complete the target. If your average to do is more than 2.74 you know that you need to raise your game from what you have been doing.
How do you stay motivated to walk 1000 miles?
Probably the best part of the challenge is the #walk1000miles Facebook group.

You may not be a regular Facebook fan, but if you have a profile I would highly recommend joining this group.
In the group you'll find lots of people just like you – normal people who enjoy walking. At the time of writing there are just under 35,000 members – some of them post regularly, some not often, and some not at all. But if you are looking for motivation or have some questions, then you have a whole lot of friendly people that can help you.
Looking for suggestions for places to go for the best walks in a certain area – post the question and you'll get lots of responses. Having issues with your feet or legs – ask for advice and I am sure that someone else has already experienced this. Looking for a new pair of walking boots – members will be happy too recommend what they use and also tell you which to avoid.
Being part of the #walk1000miles community really is great, even if you don't post on the group's page you can take a look at the posts and see some inspirational stories of regular every day folk. And some of the photos are just amazing! You'll see Nicky's photos of her early morning dog walks – including strange cloud formations that look like an old man with a walking stick!
If you are looking for even more reasons to join in, why not watch this video

!
What happens when I have completed 1000 miles?
Firstly, don't stop walking! Whilst the target is 1000 miles for the year, if you finish early then you will obviously have got into the habit of walking regularly. So don't stop now and undo all the good work you've already done.
You'll probably find that you feel fitter, maybe lost a few pounds, and have been to some fantastic places, probably some new ones, as you seek to vary your walking routes. So keep up the good work and carry on walking.
It's up to you whether you continue to log the miles, but there's no reason not to – it would be good to know what your total would be for the year. Especially if you are as sad as me when it comes to stats and figures!
But what about rewards for completing 1000 miles?
If you have done all the hard work of walking 1000 miles, then there is no doubt you deserve a reward! You may want to treat yourself to something walking related – perhaps some new shoes, a new jacket or perhaps a pair of walking socks.
Or perhaps you want to plan ahead for new walking experiences by buying a new book of an area that you fancy exploring? I did this recently and headed off to Stanfords travel bookshop in Covent Garden and treated myself to 4 (an early treat, seeing as I hadn't yet completed my 1000 miles, ooops!).
But the website itself has some downloadable certificates – in fact they have them for 500, 1000, 15000 or 2000 miles! So you could print one off halfway, when you complete the 1000, and even for those much further!
There's also medals that you can purchase from the shop

– again, one for 500, 1000, 1500 and 2000 miles. Whilst these obviously cost a little money, they will be a good reminder of what you have achieved.
There are other items in the shop, such as t-shirts, stickers and neck tubes, which not only protect your neck from the sun but can act as a face covering – particularly useful in 2020.
Conclusion – What is the Walk 1000 Miles Challenge?
The Walk 1000 Miles Challenge is quite simply an easy way to stay motivated as you walk your way to a fitter and healthier lifestyle. Just walk 2.74 miles each day for a year – or more some days, less on others, as suits your own days. But this equates to about 1 hour a day – an hour where you can immerse yourself in nature, meet up with your best friend, figure out solutions to problems, or listen to your favourite audiobook.
However you choose to spend that hour, by walking 1000 miles you will have joined thousands of others improving their life by keeping fit.
Read More