I've got to admit, I've never been a festival goes. I'm not one who wants to camp out in a tent, in a field full of other tents, with thousands of people who I don't know. And whilst I love a variety of music, I tend to prefer it from the comfort of my own home.
I have been to concerts in my younger days – Prince, Level 42, Paul Young, Will Young, Sigue Sigue Sputnik… Yes, embarrassingly, that last one is true, although they were playing my local village hall at the height of their fame, and I tended to go and see local bands more than the big (expensive) concerts.
So when I heard the term walking festival I really wasn't sure what to expect. I mean, what is a walking festival? Fair question, I hear you mutter. If I went to one, am I likely to see Ben Fogle and Kate Humble on stage? Actually, that doesn't sound too bad an idea, especially Kate, but no, that's not what it is.
A walking festival is a series of guided walks for groups, spread out over a few days, usually within a local area but maybe county-wide. Quite often you can also find self-guided walks amongst the festival, if you prefer not to mix with lots of others. Walks will be varied in length, and will often have themes or activities to entertain you.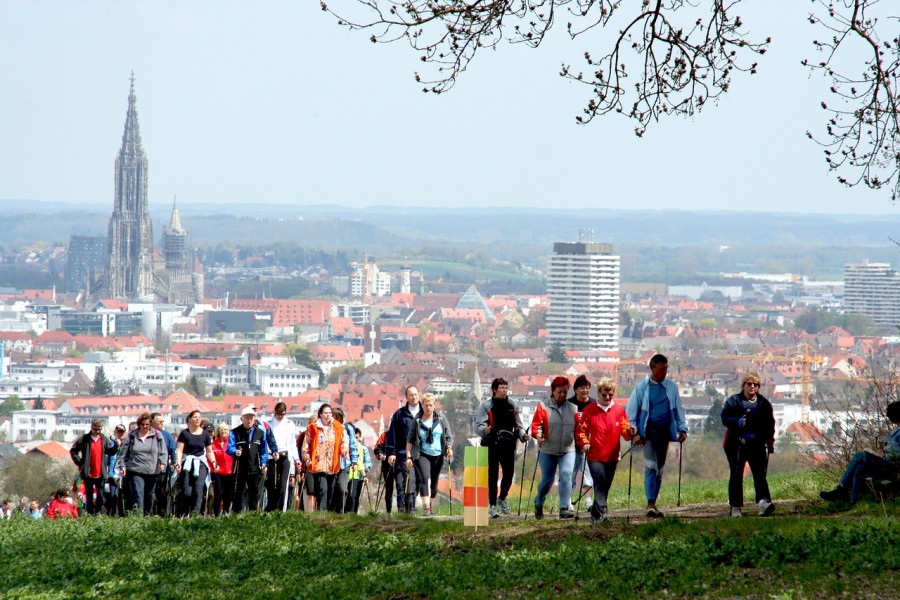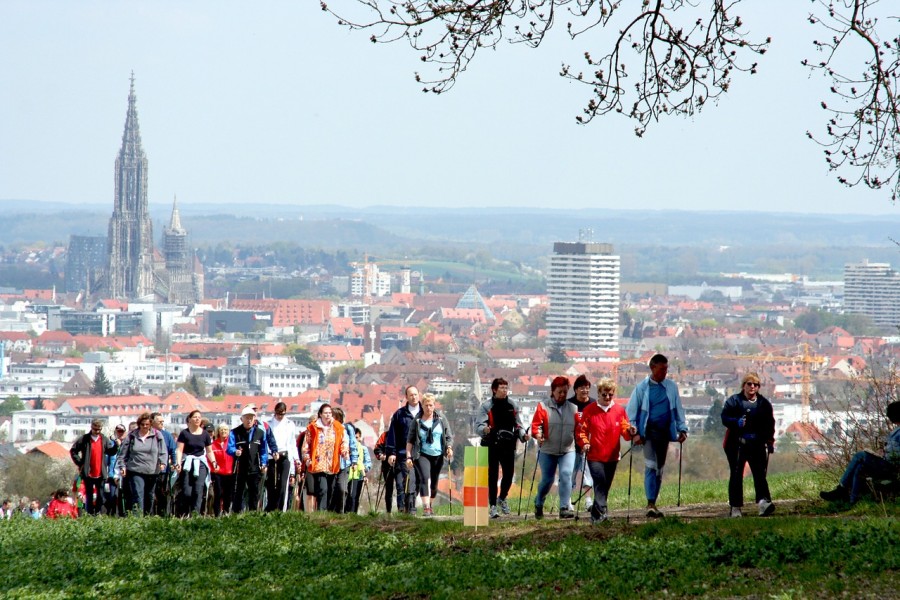 Walking festivals tend to run throughout the spring and summer months, so if guided walks around different areas of the country are your thing, then you could quite easily pack yourself off several times and learn more about our great countryside.
Walks can vary, and I am sure that each has their own range of easy to difficult walks, many of which will be friendly family. A lot of the walks are free to enter, but you may find some have some small charges if there is some form of transport included. You may have to register in advance though to help with organisational numbers.
Some walking festivals even lay on evening entertainment, from just meeting in the pub to talks about walking in the local area to even some musical entertainment (but I can almost guarantee no SSS!).
The joys of the UK's best walking festivals – The Guardian , January 2019
So here's a guide to walking festivals in the coming months. Click on the links to be taken to the festivals' own websites for full information:
Walking Festivals May 2019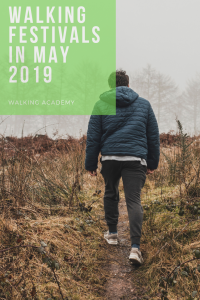 1066 Walking Festival – dates to be confirmed, but an area I know and will be keeping my eyes on the website closely. Some great walks around the historic Sussex countryside.
Isle of Wight Walking Festival – 4-19th May. In it's 21st year, and sponsored by Warner Leisure Hotels, you can walk from the beautiful chalky cliffs of the west coast to the lush green rolling hills of the east. There's an amazing 100 plus walks over the 2 week period, with half of them new this year, so if you have been before then you may want to make a return visit.
Alton, Hampshire – 1st-31st May. The Festival offers walkers a range of guided walks enabling them to explore Alton and the surrounding countryside, featuring walks of 2 – 10 miles in length as well as several longer feature walks.
Farnham, Surrey – 19th May – 2nd June. Nearly 40 walks led by local volunteers and experts on their field. Distances from half a mile up to 14 mile hikes.
Stevenage, Hertfordshire – 4th-12th May. In it's 7th year there are walks every day, including a Family Train on the opening day. 34 walks in total, ranging in distance from 1 mile up to 12 miles, with a hike of 18 miles on Saturday 11th.
Chilterns Walking Festival – 18th May – 2nd June. Over 70 walks in the Chilterns Area of Outstanding Natural Beauty. Guided by local experts, enjoy spectacular views and local history, including the themes of birds, crafts, canals and so much more. At least one for everyone here.
Milton Keynes Walking Festival – 10th-12th May. Shorter in time, this festival still packs in 18 walks from Friday to Sunday, with 3 suitable for dogs. As well as seeing the local area there's also Nordic Walking tasters and a couple of walks to see some bats.
Suffolk Walking Festival – 11th May – 2nd June. A staggering 120 plus walks and events are on offer over the 3 week festival. To give you a taste there's countryside walks, coastal walks, historical walks, mindfulness walks, and so much more. There's even 16 "fringe events".
Corby Outdoors Festival – date to be confirmed. Now in it's 11th year, at it's heart is walking but it covers all sorts of outdoor activities in the countryside around Corby.
Rutland Walking & Cycling Festival – 18th-31st May. This is a beautiful part of the country, and where Nicky's father lives. The first week is a 65 mile journey known as the Rutland Round. The second week has a number of walking and cycling activities.
National Forest Walking Festival – 18th-30th May. In it's 12th year, join the leaders in exploring up to 200 miles of the National Forest. Nearly 100 different walks around historic villages and the wonderful countryside. Learn how to map read, go orienteering, or try geocaching.
Lincolnshire Wolds Walking Festival – 18th May – 2nd June. 16 days of walking in the 15th year for this festival. The 120 walks range from half a mile right up to 17 miles. To mark the 15th anniversary there are other activities planned including shooting, fishing and mountain biking.
Chesterfield Area Walking Festival – 11th-19th May. As well as plenty of walks, you can combine a ride on a canal boat or visit the Chesterfield Museum to see George Stephenson's connection with the town.
Bingley Walking Festival – 6th May. This one day festival on the Bank Holiday Monday still offers a choice of 5 different walks. They range from a gentle 1.5 hour family walk right up to hard walk of 6-7 hours.
North York Moors – 25th-27th May. To mark the 50th anniversary of the Cleveland way, there are 3 days over the Spring Bank Holiday all themed along this trail. Transport is included so you can walk safely from point to point knowing you will be able to return to the start. Booking is therefore essential so transport can be planned.
Ballater Walking Festival, Aberdeenshire . 18th-24th May. There are 18 walks across the Cairngorms planned over the week, catering for all abilities, including 2 new ones this year.
Clyde Murishiel Walking Festival – 25th-27th May. In only their second year, there are 12 walks in total, varying from 3 miles to the 13.5 miles 7 Reservoirs Walk.
Isle of Arran Mountain Festival – 17th-20th May. If hill walking on mountains is your thing, then this will be a must. With 24 walks planned, you will need to check out the website to see the variety. Marked in hours rather than miles – starting at 4 hours up to 10 hours.
Newton Stewart Walking Festival – 10th-16th May. In it's 17th year, the annual festival includes daytime walks and evening socials. Galloway offers walks along beautiful countryside, rugged coasts and hill walking that will challenge you. 30 routes with transport and guides available.
Keswick Mountain Festival – 16th-19th May. Not just walking, this festival offers many sports, music, camping and speakers for outdoor enthusiasts. Everyone should experience Cumbria so why not put this one in your diary?
Kendal Walking Festival – 10th-12th May. This is the 3rd annual festival, offering 16 walks around the South Lakes town of Kendal. From 2 hour strolls to a 13 mile hilly walk, there's plenty for everyone. There are also talks on the Friday and Saturday evenings.
Garstang Walking Festival – 4-12th May. 9 days of walks are on offer for everyone to explore Garstang and beautiful Lancashire countryside. With over 40 walks available from one hour health walks, Nordic walking, and a three day challenge plus lots more, including children's activities.
Greater Manchester Walking Festival – 1st-31st May. Over 400 free guided walks across all 10 Greater Manchester boroughs. The UK's largest walking festival. There's a range of walks to suit everyone.
Prestatyn & Clwydian Range Walking Festival – 18th-20th May. There's 26 walks on offer over the Friday to Sunday. All walks are free to enter, and North Wales is a lovely place to visit and explore.
Llangollen Walking Festival – 4th-6th May. Choose walks from 8 miles up to 19 miles, as well as a Nordic Walking taster session, a history of the town walk, and a couple of evening sessions too.
Wales Coast Path Walking Festival – 4th-19th May. Starting at North Wales, travelling South each day around the coast. Organised by the Ramblers Cymru to mark the 7th anniversary of the Wales Coast Path. Learn about the nature, history and industry of this beautiful country.
Whitchurch Walking Festival – 10th-12th May. Another festival in it's 7th year, with hill walks, walks upon the flat, and walks along the Llangollen Canal. Evening entertainment including a film, folk session and even a Ceilidh!
Ironbridge Gorge Walking Festival – 4th-12th May. The 14th Ironbridge Gorge Walking Festival offers 9 days of varied walks around this World Heritage Site. Short 3-4 mile walks are available, with 20 mile walks available on 7 of the 9 days.
Bishops Castle Round & About – 11th May. 3 walks on one day, choose the Amble at 10 miles; the Scramble at 13 miles, or for the serious walker the 23 mile Ramble. Organised in support of Bloodwise and their ground-breaking research into blood cancer.
Malvern Walking Festival – 25th May-2nd June. Explore the Malvern Hills Area of natural Beauty with over 55 walks, covering such topics as music, brewing, nature and also history. Explore up to 10 castles built on the Welsh border.
Winchcombe Cotswolds Walking Festival – 17th-19th May. Winchcombe is known as the walking capital of the Cotswolds. Over 3 days there are 23 walks of varied distances, in it's 9th year.
Wotton Walking Festival – 10th-12th May. The Wotton Walking Festival starts with a dawn walk on the Friday morning, and offers a further 17 walks over the 3 days. These include woodland walks, riverside walks, library walks.
Bristol Walking Festival – 1st-31st May. In it's 7th year, this month long event attracts over 3,00 people out to walk around Bristol and the surrounding area. Something for everyone including historical walks, nature walks and even exploring street art in the City.
Walking Festivals June 2019
Elham Valley Walking Festival – 1st-2nd June. With 7 walks on the Saturday, ranging from 2 miles right up to 23 miles, and another 7 on Sunday ranging from a 1.5 mile children's walk to a 12 mile walk, there is plenty on offer to everyone. take a visit to the Kent Downs Area of Outstanding Natural Beauty and you won't be disappointed.
East Peak Outdoors Festival – 22nd-30th June. Catering for beginners and more experienced walkers, includes walks across differing terrains across the East Peak area. Walks cover varying interests such as heritage, local history and nature and range from 3 miles to 11 miles.
Otley Walking Festival – 22nd-30th June. With 55 walks and events, there is something for everyone. Walks include old favourites Six Dales Trail, Cakes and Ale, Walking with Wine, along with new walks including Poetry in the Park, The Otley Print Round, On The Beat in 1957, Railway Pioneers Walk. There's also an evening programme of themed walks and events.
Rosedale Walking Festiva

l – 22nd-23rd June. Rosedale is situated in the middle of the North Yorkshire Moors National Park. This festival has 6 themed walks including an introduction to Nordic Walking as well as local interest walks.
Redcar & Cleveland's Summer Walking Festival – 15th-23rd June. The festival this year is part of the Cleveland Way 50th anniversary celebrations so you will see most walks incorporate this beautiful and scenic National Trail. With almost 20 on offer, there's plenty for everyone to choose from.
Angus Glens Walking Festival

– 30th May-2nd June. Now in its 17th year, the Angus Glens Walking Festival brings you spectacular walks over four days. Enjoy open moorland, heather-clad hills, mountains, rivers, corries and crags as guided by local mountain leaders and countryside rangers
Moray Walking & Outdoor Festival

– 14th-23rd June. Enjoy not only themed walking but also white water rafting, cycling, bushcraft and wildlife events from the foothills of the Cairngorms to the Moray coastline.
Mourne International Walking Festival

– 28th-30th June. The Mourne International Walking Festival celebrates twenty-one years of outdoor enjoyment and discovery this year. If you have always fancied a trip to Northern Ireland then the stunning Mourne Mountains area and coastline views could be perfect for you.
Church Stretton Walking Festival

– 20th-23rd June. There's a selection of themed walks, including the Map & Compass Course, the night time Stars in Your Skies Walk, and the Landscape Photography Walk. Walks range from 2 miles up to 26 miles through the Shropshire countryside.
Gower Walking Festival

– 1st-9th June. The Gower Walking Festival is embracing Visit Wales's Year of Discovery – discover this beautiful area from the hills above Swansea to Worms Head. You can also walk the whole of the local section of the Wales Coast Path, from Crofty to Mumbles – some 50 miles over two days.
Corsham Walking Festival

– 7th-9th June. This year there are 27 walks led by experienced leaders, with a wide range of distances and themes offering something for everyone to enjoy on the edge of the Cotswolds Area of Outstanding Natural Beauty.
The Quantock Hills Walking Festival

– 22nd-23rd June. A weekend walking festival in the beautiful Quantock Hills, England's first Area of Outstanding Natural Beauty, showcases the unique landscape of the hills and the nearby Jurassic coast. There's a range of walks to suit all abilities lead by local experts. All walks start and finish in the village of Nether Stowey.
Walking Festivals – July 2019
Thurrock 100

– 5th-20th July. Workshops and walks around the Thames Estuary in both Kent and Essex. 16 walks, each on different days, also covering food, creative writing and drawing of different people and places. A walking festival with a difference.
Evesham Walking Festival

– 1st-7th July. A new festival in it's first year, organised by Evesham Rambling Club. 15 walks of varying lengths and difficulties. Why not be one of the first to try these out and show your support.
Walking Festivals – August 2019
White Cliffs Walking Festival

– 22nd-28th August. If you are looking for a bit of history in the Kent countryside, then there's 42 walks to choose from. In it's 6th year.
Pendle Walking Festival

– 10th-18th August. Guided walks every day to suit walkers of all abilities, ranging from easy walks of a couple of miles to fantastic challenge walks like The Pendle Way.
Much Wenlock Walking Weekend

– 30th August-2nd September. 12 walks over 3 days, including a trip to Ironbridge. Culminates in Walking For Health walks – 3 different walks for varying levels of fitness.
Bishops Castle Challenge Walk

– 3rd August. A 24 mile walk covering the hills and valleys of the Shropshire Hills. If 24 miles is too far for you, there are options of 11 and 13 miles, with bus transfer.
Mendip Ramblers Free Walking Festival – 24th-26th August. This year's festival is based in the town of Shepton Mallet. Its central location in the rolling Somerset countryside provides an excellent choice of varied walks. Four walks each day from easy to hard.
Dartmoor Walking Festival

– 24th August-1st September. In it's 4th year, the festival starts with an introduction to map reading. Nearly 50 walks and events to attend – something for everyone.
Recent Posts