Until recently my walking trousers were jeans if it was cold, and shorts if it was hot. But the more I have got into my walking, the more I thought that I should get a proper pair of walking trousers.
Yes, jeans keep you warm and can be hard wearing when you come up against brambles and bushes, but they have some serious drawbacks. If the sun comes out and you spend a fair bit of time walking in it, you will easily overheat, and that could also cause dehydration quickly. However if it suddenly rains your jeans will get soaked, and they just will not dry out until you get home and change. Both these scenarios will be troublesome.
The shorts I was walking in were just basic types of everyday shorts – whatever I had that I was happy enough to get my spindly legs out in. But again, they certainly aren't as useful as some that are designed for the job in hand (or should I say feet).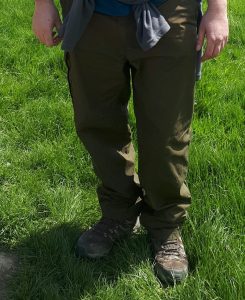 So I recently purchased a pair of Craghoppers Men's Classic Kiwi Trousers in Dark Moss, as you can see to the right here. (You can buy them from Amazon here.)

As I said earlier, I have spindly legs, although the more I walk the more muscles I can feel. I did find that the fit on the legs is rather baggy, but I guess for most men this would not be so noticeable. This also allows room for wearing a base layer of thermal leggings in the winter.
But the fit on the waist is pretty snug. Mine are a size 38″ waist, and whilst some of my work trousers this size are feeling looser in recent months, I would not buy a pair of these smaller until I was certain that I had lost another 2 inches round my waist. Having said that, they do have two small areas towards the back of the hips that are elasticated. They also came with their own belt with the same sort of buckle you would find on a rucksack – very secure.
Whilst we are on fit, I bought the long leg, and they certainly are long. I am almost 6 ' 2″ and need long legs, but find these maybe even an inch or so too long. But I am not disappointed with this – better to be long than short, in my mind. I would be keen to see a pair of regular length just to compare.
But what makes the Craghoppers Classic Kiwi trousers so special? There are many features that put them top of my shopping list:
Smartdry – The trousers are treated with a water-repellent so that rain runs off. So far I have not experienced this, but they certainly feel that this would be the case.
Wash&Wear – Easy-care fabric means you can wash and hang out to dry. They will dry quickly and will not need ironing.
Solarshield – Sun protection fabric which gives UPF50+ protection against harmful rays from the sun. (Since I have had them the sun has hardly been out, so not yet noticed the benefit).
Secure zipped side pockets – They have two pockets at each side, with one of the two having a zip. As a man who tends to always have his wallet handy, as well as keys and loose change, this is a big plus for me. You can put your hands in your other pockets without fear of accidentally losing your valuables.
Map and phone pocket – On the right leg there's a large pocket capable of taking a map or guidebook. It has a cover which is held in place with velcro, to keep them dry. Inside there is also an elasticated pocket suitable for a mobile phone.
Zipped back pockets – I didn't notice these at first as they have thin covers over the zips, but this is another bit of security whilst you walk.
Heel Tape – the bottom of the legs have added strength with a stitched tape so that if you do tread on them whilst walking they are a bit stronger.
Double Seat and Knees – The areas around your knees and bottom have a double layer of fabric for protection when you sit or kneel.
Insect Protection – They are made from tough fibres so that insects like mosquitoes cannot penetrate when trying to bite you. For someone like me who seems to attract biting insects as soon as I step out the door, this was a big plus mark.
Lifetime guarantee – They come with a stamped certificate of authenticity inside the trouser and a lifetime guarantee.
They come in a quite a few different colours – Dark Moss (as above), Black, Black Pepper, Brown, Dark Navy, Bark, Navy and Beige.
Check out the colours and more reviews on Amazon here.

So that's what I am wearing at present, and will continue to update my findings as I wear them more in different conditions.
---