You can't help but have noticed that there is an awful lot of litter that is dropped and left by people. I have always hated litter, and in the past worked with one of my local councillors arranging litter picks for locals to attend.
The amount of litter that is left strewn by others is infuriating. Just who do they think will clear up after them? And do they not realise the effect it has on wildlife? Surely everybody has seen programmes on TV and videos on social media of our oceans full of rubbish, much of it plastic.
As walkers we can do a little to help, if you feel free strongly about it. It's not for everyone, I understand that, but if I can convince one more person who reads this to pick some litter whilst walking, then I feel that the time taken to write this post has been worthwhile.
Britain's litter issues
In my mind, it's not just kids that throw litter. Over successive generations there has been an increase in convenience goods such as sweets, bottled drinks, and takeaway food options, and a decrease in the pride in our of our country and it's appearance.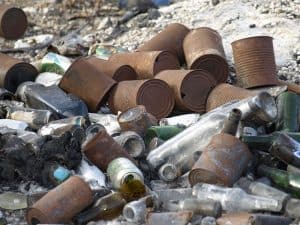 So often when out driving you will see people throw rubbish out of their window, to be blown into the side of the road or motorway. Why do people think this is acceptable? Why can they not keep it in their car , take it home, and put it in their own rubbish bins?
And of course, if there's a child in that car, or any in the vicinity such as a car following, they believe that it is ok to do the same as they grow older. We are teaching our children to litter!
Obviously it's not just motorists. I live next to a large sportsground, where you will see large groups of children, families, congregating for a picnic or takeaway. And so many times when they finish, they just get up and leave their assorted takeaway wrappers and bottles exactly where they left them, on the grass, for someone else to pick up. And this in a place where young children and dogs play, it's enough to make your blood boil.
What can we as walkers do about the litter problem?
I am sure that you have several regular walks near to your house. If like us, you live in a town, you may have to walk along many streets to get to your nearest green space, woodland or lake. I urge you to take a look next time you do one of these regular walks, and see how much litter has been dropped. Make a mental note, or even take photos of it.
Yes, you could call up your council, and ask them to come and clean it up. But that is a resource that has to be paid for, and I think we all have enough council tax to pay as it is.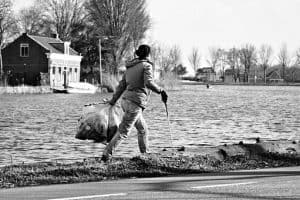 But what would happen if you took a spare carrier bag with you in your pocket, and cleared up a small section of your route as you walked? I can tell you for one thing, you will feel good that you have done a little to help. People will see the good you are doing and thank you – trust me, I have had this many times. And hopefully it will encourage them to think twice about littering, and maybe even will inspire them to do a little too.
How can I fit litter picking into my weekly schedule?
You may want to dedicate one walk per week to litter picking, or if you want to do more, how about one bag a day? Maybe you have a friend who feels the same way – if so, why not suggest a regular once a week walk that you meet up for, maybe the first half committed to clearing up an area, and the second half dedicated to a good old gossip and catch up the week's events!
If you walk to work, why not leave 15 minutes earlier and take a bag with you, picking up rubbish at various points on your journey?
One week litter picking challenge
This is a little challenge to you. Presuming that you have a regular walk you do every day, why not take one carrier bag or sack with you, and collect enough to fill this bag, depositing it in one of the nearby rubbish bins or taking it home with you.
The next day, take another bag, and carry on where you left off. Continue this each day and see how far you can clean up. As you walk out on the seventh day, appreciate the hard work and how much nicer your walk is, without having to look at mounds of litter.
Encouraging others to keep your area tidy
Hopefully as well as people seeing you picking up litter, locals will see the difference it makes. There's something to be said for a tidy area inspiring others to clean up their own area. People will start to get a bit of pride in where they live, tidy their gardens, clean up the areas outside their boundaries.
If you get the litter picking bug, you may want to encourage other walkers or locals to join you on a litter walk. Locally to me and Nicky there are several social media sites where people post their own litter collecting events, whether they be walkers or just local residents.
Rubbish Walks
There's a group in Suffolk called Rubbish Walks

that are leading the way in litter picking whilst walking. Run by founder Jason Alexander and Jon Alcock, they organise rubbish walks collecting litter, beach cleanups and river cleanups.
But not only do they organise cleaning up events, they also go out to the public, talking to groups such as the Women's Institute, Rotary and Lions Groups, as well as youth groups. They are also starting to arrange workshops for corporate events – the cost of these will go towards funding their time to reach out to children via school assemblies.
If you are inspired to do more than litter pick on your own, then I highly recommend checking out their site

for ways that you could do something in your area.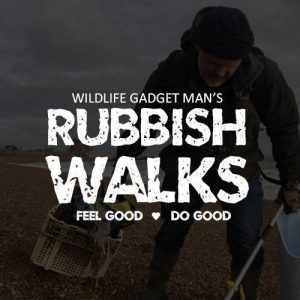 Wayne Dixon and Koda – an inspirational story
One day a man was walking his dog, when the dog injured his leg so badly on a discarded drinks can that he almost lost his leg. That dog was Koda, and this partly inspired his owner Wayne Dixon on a truly inspirational litter walk.
Wayne is walking all 7,000 miles of the UK coastline, and litter picking en route. Not only is he litter picking, but he is also inspiring others to do the same by joining him on his walks, or by visiting schools to tell the children and staff about his mission. Check out the full story on the Keep Britain Tidy website

.
Nadia Sparkes – Trash Girl
Schoolgirl Nadia Sparkes has a 2 mile route to and from school each day. Disgusted by the amount of rubbish she came across, she decided to collect some of it each day, bringing it home in her bicycle basket.
But other kids soon started to bully her, and started calling her Trash Girl. Upset by them, she spoke with her mother who said there were only 2 options – give up collecting rubbish, or adopt the name and show them that she didn't care. She chose the latter, as she wanted to be doing the right thing.
In her first term at school she collected the equivalent of 2 80 litre bins, most of which was recyclable. Not only is she making a huge difference in her community, but she also stood up to the bullies – truly a great young lady. You can read more on The Outdoor Guide's site.
Tonbridge's own inspirational children – the Litter Kickers
I have had the pleasure of meeting these two young football mad brothers online, and hope to meet them in person in the next few days. Danny and Jojo are known on Twitter as Litter Kickers

, and their aim is to spend as much time litter picking as they do playing football. They are out most days collecting litter, and even reported back from their holidays in Egypt how they litter picked and inspired locals too!

I have been inspired – what equipment do I need?
After all these stories of normal people making a difference, you may want to do your own bit. But you don't know what is required to start.
You don't need much to start with, although you can add some items to make your job easier as you go. You can get away with a carrier bag to start with, and your hands, although I would recommend that you wear gloves.
Of course, safety is paramount. Never pick up anything sharp with your hands – broken glass, torn up tin cans, or heaven forbid, discarded needles. Report these to your local council, stressing the danger to young children and wildlife.
It would be wise to wear a sturdy pair of boots, if possible, especially if your walk involves walking on a rocky beach. If you are walking and litter picking on the street, I would also suggest wearing something bright, or preferably a high viz jacket.
You may want to invest in a litter picker – you can pick these up for under £10. If you intend making litter picking a big part of your walks, then you can also buy circular sack holders, where the sack is held in place with plastic clips.
If you can tempt some others out with you, then it would be a good idea to have one sack for plastics which can be recycled, one for tins, one for rubbish, and so on.
I have created an Amazon Ideas List of items you may want.
Conclusion – litter picking whilst walking
Many of us have become so used to litter on our walks that we barely see it. But once you do start to notice it, you start to think that someone should do something about it. And then you realise that unless you do something about it, it is doubtful that anyone else will. Yes, councils will clean the major roads in your area, but there is no way they can get out and keep the whole area that they cover tidy.
So if someone should do something, then why not you? You are someone, and once you realise you can make a start you will soon feel great about doing some good in this world. You know about the benefits of fresh air and exercise, but you will also benefit mentally, especially if you this with others.
Recent Posts