When it comes to camping in the outdoors, choosing the right tent is one of the most important decisions you'll make. Whether you're a novice hiker only just beginning your outdoor adventures or an experienced trekker with countless miles under your belt, having a reliable shelter to protect you from the elements can be critical for a successful hike.
What factors to consider when buying a tent to hike and camp
A good camping tent will protect you from the elements and provide a comfortable place to rest after a long day of hiking. But with so many different tents on the market, it can be hard to know where to start.
Determine your needs for your tent
Before you start shopping for a tent, it's important to determine your specific needs. Ask yourself these questions:
How many people will be using the tent?
What type of weather conditions will you be camping in?
How much weight are you willing to carry?
It's essential to choose the right tent that fits your needs and preferences. One critical factor to consider is how many people the tent needs to accommodate comfortably. Are you traveling solo or as a couple, or are you planning a family camping trip? The tent size and configuration will differ based on the number of people who need to fit inside.
Think about the environment you'll be camping in and the weather conditions you're likely to encounter. Will you be in a rainy or windy area? Do you need a tent with ample ventilation for hot and humid climates?
Weight preferences are essential, particularly if you're going to backpack through the wilderness. You'll want to choose a lightweight tent that's easy to carry, so you don't feel bogged down while trekking from one campsite to the next.
Consider these specific considerations for different group sizes, weather conditions, and weight preferences to make the best choice for your next camping trip.
Look for tents made from quality materials
The materials make all the difference when it comes to camping tents. If you're in the market for a new tent, focus on finding one that's made from top-quality materials. Look for sturdy poles that can withstand harsh weather conditions and rugged terrains.
Durable fabrics are essential for safeguarding against tears and punctures. Water-resistant coatings can be beneficial for protection against unexpected rainfall and other weather-related elements. When shopping for a camping tent, remember that the quality of its materials can determine its durability and performance over time. Some of the most common materials used in camping tents include:
Polyester, a synthetic material produced from petroleum-derived substances, has gained popularity over the years due to its lightweight, durability, and ease of maintenance. Its unique properties and versatility make it an excellent choice for manufacturing camping tents that can withstand different weather conditions and rough handling. It is also resistant to mold and mildew, which makes it a more hygienic option for long camping trips.
Nylon is an excellent fabric choice when looking for something that is lightweight and durable. However, compared to polyester, it is not as resistant to UV rays. Despite this, nylon is still a popular choice for various outdoor activities such as camping, hiking, and backpacking, where its combination of strength and flexibility make it an ideal solution.
Canvas tents, known for being heavy yet highly resilient, are a dependable option for camping in even the harshest of weather conditions. Their sturdy construction provides optimal protection against the elements, ensuring a safe and comfortable shelter for any outdoor adventure.
When choosing a camping tent, pay attention to the materials used in its construction and make sure they're suitable for your needs.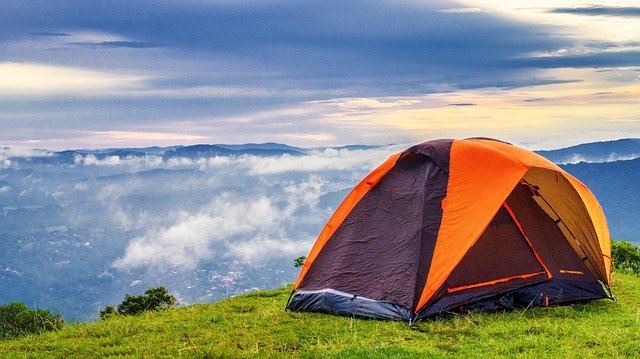 Consider the tent's design
The design of a camping tent can have a big impact on its functionality and ease of use. When choosing a tent, consider factors such as:
Shape: There are a variety of tent shapes, each with their own strengths and weaknesses. For example, a dome-shaped tent provides good stability and space, whereas a tunnel tent offers a more aerodynamic shape for windy environments.
Ventilation: ventilation options can vary from mesh panels to vents, which can help regulate temperature and reduce condensation.
Doors and windows: Door and window configurations can also have an impact on comfort and accessibility. Some tents have multiple doors, which can be helpful for quick exits or entering without disturbing others.
Rainfly: A rainfly is a separate cover that goes over the top of the tent to provide additional protection from the elements. Look for a tent with a good quality rainfly if you're camping in an area with lots of rain or snow.
Consider your budget for a tent
Camping tents can range in price from less than £50 to several hundred pounds. When choosing a tent, consider your budget and choose a tent that fits within your price range. Keep in mind that a higher-priced tent may offer better quality materials and construction, but you don't necessarily need to break the bank to find a good quality tent that meets your needs. Look for a tent that offers a good balance between price and features.
Check the tent's setup
Before making a purchase, it's important to check the setup process of the tent. Some camping tents are designed to be set up quickly and easily, while others may require more time and effort. Consider your experience level and the conditions you'll be camping in when choosing a tent with a setup process that's suitable for your needs.
Read tent reviews
When it comes to purchasing a tent, it can be overwhelming to sort through all the various options available on the market.
One great way to gauge a tent's quality and performance is to read reviews from other campers. You can save yourself a lot of time and hassle by looking for reviews from people who have used the tent in conditions similar to those you'll be camping in, as this will give you a better idea of how the tent will perform under the same circumstances.
Be sure to pay attention to any recurring issues or concerns mentioned by multiple reviewers. While one-off complaints may not be as serious, patterns of problems may indicate larger issues with a tent's design or construction.
Consider additional features
Many camping tents come with additional features that can add to their functionality and convenience. Some common features to consider include:
Vestibules: A vestibule in camping tents is an area outside the sleeping space where campers can store gear, take off muddy boots, or even cook food! This well-defined space provides additional security from the elements while also keeping the living area free from dirt and clutter.
Pockets: If're setting up camp in a tent, don't overlook the value of pockets inside! They are not only a convenient place to store small items like phones, torches, or books, but they also save you from rummaging around your sleeping bag in the middle of the night.
Guy lines: Guy lines are integral components of any tent and play a crucial role in ensuring stability during high winds. Typically made of nylon or polyester, these ropes are attached to the tent's corners and extend outwards, secured to the ground with stakes. Once tightened, the ropes create tension, pulling the tent taut and preventing it from swaying or collapsing in the wind.
Gear loft: A gear loft is essentially a mesh shelf suspended from the ceiling of the tent. The great thing about it is that it provides additional storage space, so you can keep all of your gear organized and easily accessible. This makes it perfect for storing items like torches, phones, water bottles, and any other small items that you want to keep close at hand while camping.
Consider which additional features are important to you and look for a tent that offers those features.
Multi season tents
Multi-season tents are designed to be used in a variety of weather conditions throughout the year. They are usually made with high-quality materials and feature a sturdy, durable construction to withstand extreme temperatures, strong winds, and heavy rain or snow.
Multi-season tents are typically classified as three-season or four-season tents, depending on the level of protection they provide.
Three season tents
Three-season tents are designed for use in spring, summer, and autumn and are suitable for mild to moderate weather conditions. They offer good ventilation to keep you cool during warm weather and protection from light rain or wind. They are also lightweight and easy to set up, making them ideal for backpackers and hikers.
Four season tents
Four-season tents, also known as mountaineering tents, are designed for use in winter and other harsh weather conditions. They are made with heavier, more durable materials and feature a stronger construction to withstand heavy snow, high winds, and extreme temperatures.
They also offer more insulation and less ventilation to keep you warm in cold weather. These tents are typically heavier and more expensive than three-season tents, but they provide the necessary protection for camping in harsh winter conditions.
---
When choosing a multi-season tent, consider the conditions you'll be camping in and choose a tent that is appropriate for those conditions. It's also important to consider the weight of the tent, the size, the ease of setup, and any additional features that may be important to you.
A high-quality multi-season tent can provide a comfortable and safe shelter for camping in a variety of weather conditions, so it's worth investing in a good one if you plan on camping year-round.
Tent Brands in the UK
There are many camping tent brands available in the UK, and some of the best ones are:
These are just a few examples of the many camping tent brands available in the UK. When choosing a brand, it's important to consider factors such as the quality of materials, the level of innovation in design, and the brand's reputation among outdoor enthusiasts.
Conclusion
Choosing the right camping tent for hiking can be a daunting task, but by following these steps, you can find a tent that meets your needs and provides a comfortable and enjoyable camping experience. Consider the size, weight, materials, design, budget, setup process, reviews, and additional features when making your decision. With the right tent, you'll be able to rest easy and enjoy the beauty of the great outdoors.
Recent Posts
link to The benefits of hiking as a family
Hiking offers many incredible benefits, and there's no reason why your kids can't enjoy them too! Exploring the great outdoors with the family helps to develop memories that will last a lifetime....
link to How To Clean A Tent After A Multi-Day Hike
I'll be the first to admit that I don't do camping, but if you are going on a multi-day hike then camping each night will certainly keep the costs down. But obviously this means your tent will get...