I've been wondering about buying some walking poles for a while, but don't really know anyone who uses them. So I've had no-one to ask about them in person and as such had to do my own research.
If I get some, they will be something of an experiment – I really am not sure if I will use them much or not – and as such I didn't want to spend too much money on them. And so I am looking at the budget range of walking poles.
Go straight to Amazon to see the choices

Reasons for using walking poles
There are various reasons for using walking poles, which I have gone into more detail here

. But for a short version:
Support and balance – as well as good for older walkers who may struggle without, particularly helpful for all walkers on uneven ground or going up, and more importantly, down hills.
Make walking easier – walking poles help spread the distribution of weight, particularly helpful if carrying a large rucksack. They also assist people by reducing the burden on knees and hip joints. This will help people with joint issues, but may also prolong those issues from occurring.
Propulsion – using hiking poles helps to cover longer distances easier by providing forward propulsion. They also help you to build upper body strength.
It's these last two points that I have been interested in. As I get older I am enjoying my walks, and see my future years exploring different parts of Britain on foot. But I am also conscious that whilst I was fairly active in my teens, I have become far more sedentary over the years since, and so I want to make walking a thing I am physically able to do for longer.
I've also never been blessed with much upper body strength. I have joined gyms over the years, but find them a bit cliquey and soon get discouraged. There's nothing worse than going several times a week and working out for 60-90 minutes, whilst all these muscle bound guys and fit girls are all congratulating each other on their perfect bodies! So any help that walking poles can give in stronger arms and chest would be an added benefit.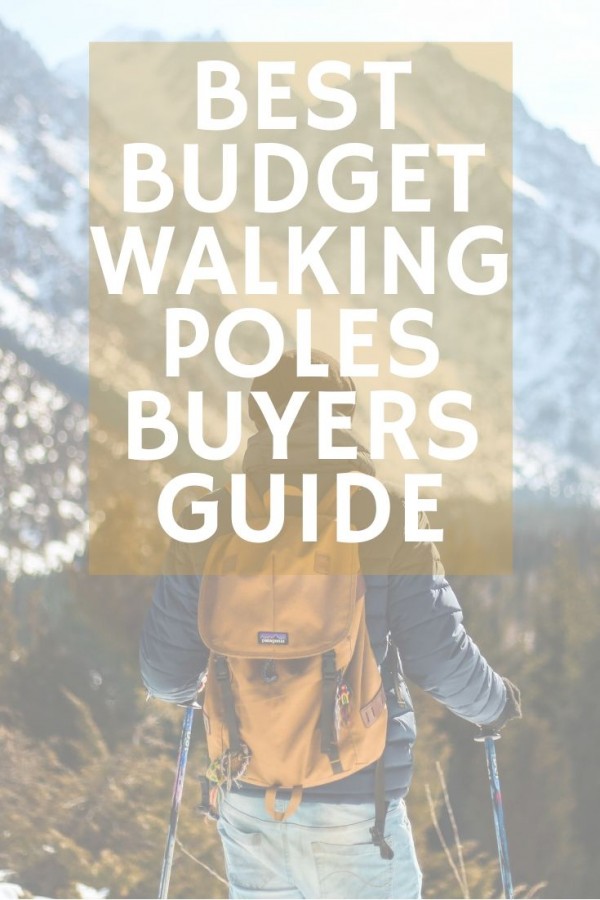 Selecting the 5 sets of hiking poles
As I mentioned, I am looking at budget poles, simply because I don't want to buy an expensive set and then realise that I won't use them. That's just as bad as that gym membership that never gets used after February.
Having seen poles that cost well over £500 (yes, I'm not joking!), I decided to set a budget of up to £50 to compare. I still think this is quite high for me personally as I don't have a lot of spare money, but having saved on train fares during lockdown I may feel that I can stretch myself a little more.
So I've checked out Amazon and manufacturers' websites to pick out 5 of the best budget walking poles that are on the market in 2020. They've been chosen for their price, positive reviews, and numbers sold on Amazon – if they are selling lots they are obviously good and receiving recommendations elsewhere.
---
Our choice of 5 budget poles
So here we go, here are our 5 sets of walking poles under £50 that we've chosen to recommend.
Features of Andes Antishock Hiking/Walking Poles
Size: Length: 65cm (25.5″) – 135cm (53″)
Material: Lightweight aluminium
Weight 662g
Colours – black, green, red, silver
Antishock feature
Removable ferrules and snow baskets
Handy mini compass on the top
Lightweight but extremely strong
Comfortable ergonomic grip
Buy on Amazon by clicking here


The Trekrite Women's Telescopic Antishock Walking Poles were designed by women for women. They are made from lightweight aluminium and come in at just 258 grams per pole.
They are very good for general every day use, walking across fields in the countryside or around your local area. There seems to be some question mark though as to whether they would stand up to serious mountains, but at c£20 at the time of writing, I would expect to pay more for that level of hill walking.
Probably their best feature is the Antishock feature which you can twist on or off. Personally I would question why you would have this off, as it provides protection for your wrists and knees, which is one of the main reasons for using hiking poles.
Being telescopic they come in three sections and you fix the height as per the Andes above. When not in use they break down to just over 2 feet, and come with a handy bag which is a nice feature.
When you purchase you also get the rubber caps and snow baskets, perfect for snow or soft ground, to prevent your pole from sinking in and maybe causing you to fall over.
Features of Trekrite Women's Telescopic Antishock Walking/Hiking Poles
Lightweight aluminium – 258g per pole (without accessories)
Three Section telescopic extension – 65cm to 135cm (26″ to 53″)
Antishock feature – can be turned on or off
Removable Ferrules and mud baskets
Comfortable EVA foam handles and adjustable padded wrist straps.
Purple or Teal
Buy on Amazon by clicking here


These Trekrite 3 Section Telescopic Walking Poles are suitable for both men and women, and are virtually the same pole as the women's pole above.
Whilst the women's poles above come in purple and teal, these poles come in black, midnight blue, red or silver. The EVA foam handles are designed to be sweat resistant, so that you do not get blisters from carrying them.
The Antishock system is turned on and off by twisting the middle section when locked – you should hear a click to tell you that is far enough.
Features of Trekrite 3 Section Telescopic Antishock Walking/Hiking Poles
Lightweight Aluminium – 245g per pole.
EVA foam handles and integrated adjustable wrist straps.
Fully extended from 65 to 135cm.
Extra anti-shock facility, which can be turned on or off.
Removable mud baskets and removable rubber ferrules.
Hard tungsten alloy trekking tips.
Black, red, blue or silver.
Buy on Amazon by clicking here


At the time of writing these TheFitLife Hiking poles are priced at c£22. For just a couple of pounds more than the Trekrite poles above, you get a few extra features.
Underneath the primary rubber grip, you get an EVA foam grip which gives you choice of grip when walking up or downhill without needing to adjust the height of your poles.
There's a twist quick lock, and the shaft has a clearly marked STOP sign so that you don't pull out the sections too far when setting the height.
There's also more accessories for the tip than on other pole sets – a mud basket and rubber ferrules are usual, but this has a wider snow basket and also feet for walking on gravel. And it also comes with a bag.
Once collapsed it measures less than 26 inches, slightly shorter than the others on this page. And the inbuilt shock absorption appears to be slightly better too, with springs loaded within the poles.
Features of TheFitLife Hiking/Walking/Trekking Poles
Antishock absorbing poles.
Extra long EVA foam handles with straps.
Lightweight aviation aluminium construction – 270g.
Extendable from 26″ (65 cm) to 53″ (135 cm).
Black, blue or silver.
Buy on Amazon by clicking here


Whilst these were the most expensive poles that we chose in this review – at the time of writing they were c£32 but click here

for the up to date price – you could see there was a definite step up in quality.
I like that they have given a suggested height setting based on your height. Whilst this is something you can obviously play around with to get your perfect height, and you should, it's good to at least get a starting point.
| | |
| --- | --- |
| < 5′ 1″ | 100cm |
| 5′ 1″ – 5′ 7″ | 110cm |
| 5′ 8″ – 5′ 11″ | 120cm |
| 6′ + | 130cm |
Suggested height settings of Trekology Trek-Z collapsible walking poles
---
They are very easy to assemble. Folded in 3, undo the velcro strap that keeps them secure, and let them unfold. The bottom 2 sections align automatically. To align the top section, you need to pull the bar out until you hear he pop of the button slipping into the hole.
To adjust the height, undo the top metal clip. Hold the pole upright, but touching the floor. Move your arm up and down so that it reaches a 90 degree angle at your elbow. At this point you need to lock the clip into place.
Tighten the thumbscrew on the pole at that height. Re-open the metal clip, tighten the thumbscrew one more turn, and put the clip back again. This locks the pole at the height you require. It also has an adjustable wrist strap, with plastic bar to keep it in place.
One of the main advantages of having collapsible poles is that they can be taken with you everywhere. So if you are doing a day hike that involves some sightseeing, you can easily pop them in a small rucksack and you won't be accidentally stabbing other people as you turn around.
One point to note is that the poles are both the same – you don't get specific left or right poles at this level of price. But this should not be an issue.
If you are using on pavements then the rubber caps are very strong. They have a metal ring inside that gives them extra strength. If trekking on country the metal tips are very strong, however on this level of pole they are not replaceable, so if you are doing thousands of miles it would be a good idea to keep a close eye on these.
There is a one year warranty with all Trekology products.
Editor's Choice!
Features of the Trekology Trek-Z Collapsible Trekking/Hiking Pole
Improved features on metal locking pin.
Foam grips to avoid sweat building up on handles.
Mud stops to aid grip in extreme conditions.
Built with aircraft grade aluminium – both lightweight and strong, they absorb pressure and impact better than carbon fibre poles.
They collapse into three sections down to just 15 inches, thus fitting into backpacks easily.
Available in 2 sizes – 100-125cm (suitable for up to 5′ 8″) or 115-135 cm (5′ 9″ and taller). Length can be adjusted quickly.
Lightweight – only 270g for the shorter poles, 290g for the longer poles, due to the aircraft aluminium.
Buy on Amazon by clicking here

Conclusion – Best Budget Walking Poles 2020
As you can see, these are the 5 best budget walking poles that we have researched for 2020. We rejected many other walking poles due to bad reviews and some obvious issues with their design.
Our favourite was definitely the Trekology Trek-Z Collapsible Poles

, but the best of the telescopic poles was TheFitLife Walking Poles

, in our opinion.
Have you been looking for the best affordable hiking or trekking poles available? Will you choose one of these? Or maybe you have another set in mind? Either way, I hope that this summary helped you select the walking poles for your needs.
Recent Posts