When you start walking as a hobby the only thing that is really necessary to purchase is a good pair of walking shoes or boots. Let's take a look at the factors that you need to consider when choosing the best shoes or boots for walking.
If you are going to take up walking like we have, you obviously want to have the best shoe possible to be comfortable whilst you pound out those miles. Wearing the wrong type of shoe can not only make you more prone to injury, but can make it hard work when it should be a pleasure. Which in turn will cause you to be more likely to give up walking on a regular basis. And for us, this is the one habit that we don't want to break, as it is so good for the mind as well as the body.
It is important to realize that there isn't a simple answer to the question of which is the best shoe or boot to choose. If only life was that easy – and I am sure the manufacturer of said shoe would be rubbing it's hands. There are many factors to consider when choosing the shoe to buy.
You need to figure out exactly what type of shoe works best for you. Do a little research online, take a look at what fellow walkers say on forums or Facebook groups, and when you meet people out hiking when you stop and say hello take note of the brands they are wearing. Hey, why not even ask them – most walkers are friendly folks and I am sure they would let you know what shoe they are wearing and if they are good.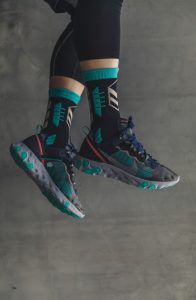 You want to find the shoe that gives your feet the best support, cushioning, and flexibility. For Paul, who suffers with fallen arches on occasions, support is vitally important. But you also want to consider cushioning, how sturdy they are, flexibility, and what type of walking you do most.
It may be wise to seek out a dedicated walking shop so that you can consult with the staff if you are unsure on what type of shoe is best for your speed, style, walking distance, and surface you'll be walking on the most. They should be trained to take into consideration your stride and weight when deciding upon the right shoe.
Plus you need to take into account if you have any type of foot, knee or leg issues that might bother you when walking – a good shop will have an in depth knowledge of why different boots will suit different issues. It's not easy to find a good walking shop with good staff, but when you do, you won't need to go anywhere else.
Walking shoes or boots? What should you buy?
Probably the most important factor to consider first of all is what type of walking are you going to be doing. If you are walking mainly on pavements with your dog, then walking shoes may be best. You may even be able to get along with running shoes that you wear day in, day out. These will also suffice when walking on short grass, although if it's been raining they your feet are likely to get damp.
But if you are going to be walking through long grass and muddy fields that you may slip a lot, then the ankle support that boots provide will be a factor. Also, they will keep the bottom of your trousers ever so slightly protected, but expect to get them dirty if it is at all muddy. It's amazing how easily mud flies up and splatters your trousers.
If you are walking on rough and rocky terrain, then walking boots are essential. You need that extra support – the last thing you want to do is turn your ankle over when half-way up a rocky mountain and need rescuing just because your footwear was not suitable. Leave the rescue teams to do their jobs on more important problems.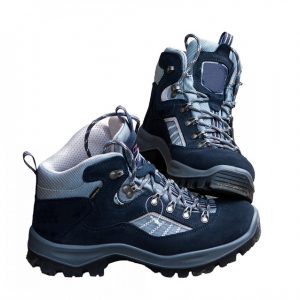 Choosing a walking shoe
If you do decide to choose a walking shoe because the walking you are doing is mainly pavements or short grass, then make sure you choose a shoe that has plenty of cushioning. Whilst it will certainly be lighter than a boot, you can afford to ensure that it is sturdy enough to keep you going for many miles.
What features will a walking shoe have?
Toe cap – situated at the front of the shoe, the toe cap is an area of usually rubber material that strengthens the fabric at the front of the shoe, for added protection to your toes.
Toe box – the area inside the shoe where your toes sit, you need plenty of room to avoid your toes being cramped and causing calluses.
Upper – the material that holds your foot in the shoe. Usually made of leather or a synthetic mesh material. The mesh will allow for better breathing to keep your feet cooler and is obviously lightweight.
Heel collar – a padded area that helps protect your ankle and provides support.
Achilles tendon protector – located at the top and back of your shoe, this protects your achilles tendon from damage. With a cutaway notch giving a U-shape, it locks your foot into the heel.
Insole – the part that your foot sits on inside your shoe. It should be shaped to give you arch support, and should also be cushioned if possible. removable insoles can be taken out to be washed and dried when wet.
Midsole – Midsoles are the cushioning part of the shoe – essential when walking many miles. Often made of gel or foam.
Outer sole – the part of the sole that makes contact with the ground. Should be a hard wearing rubber, and with good grips and tread to ensure you don't slip in the wet and mud.
Width of shoes
It's important to get the right width of shoes for your feet. I think most people don't consider this factor too much, unless they have really wide feet.
But you want to avoid having too wide a shoe for your foot. This will only cause your feet to slide around from side to side, increasing the chance of blisters. Shoes that are too narrow are also likely to give your feet blisters, so take time to compare the width of different shoes and how they are on your feet.
It's always best to wear your walking socks when trying on shoes, as these will be padded and obviously add a bit of width to your foot. If possible try shoes on at the latest point in the day that you can – your feet will expand during the day, so what may seem like a good fit early in the morning may be uncomfortable once you have been hiking for a few hours on a late afternoon walk.
If you are a lady with wide feet, don't be embarrassed to ask to try men's shoes – comfort is far more important than any false modesty.
Arch support
Supporting your arch is crucial – these bones and tendons help to distribute your weight as you step forward, and adapt to different terrains that you walk on. Buying a shoe that has little arch support, especially if you have high arches, can cause many issues with your feet. Too much support can feel funny, so again, take the time to assess your arch type in order to buy the right shoe for you.
Finding your arch type with wet feet
If you are unsure what type of arch you have, then do this little test before you go shopping. Place your feet into a bowl of water, then step out onto some cardboard, then take a good look at the footprints left when you step off.
What does the footprint look like? If you can see almost all of your foot, then you have pretty low arches. If you can see very little of the middle of your footprint, then you have high arches and will need lots of support. Somewhere in the middle means you have fairly standard arches, but support will still be important.
Plantar fasciitis
Plantar fasciitis is the most common cause of arch pain, and is caused by overuse or injury to the ligament that connects the front of your foot to the heel. It can be quite common in walkers, so if you suffer it is essential you tell your shop when choosing new walking shoes.
As always, it is best to seek medical advice if you are experiencing pain, and your doctor should be able to suggest stretches that will help with this issue. Stretching the calves will also assist in strengthening your feet. This is the best video I could find that may help with stretches:
Making sure your walking shoes fit when choosing which to buy
Obviously it's very important to get the fit just right. Too small and they will cramp your foot, too large and your foot will move, causing blisters as it rubs against the shoe.
Try to remember the following tips:
Shop late in the day if possible, so that your feet are at their largest. If that's not possible, try to ensure you have gone for a walk already, so that your feet have expanded a little.
Wear the socks that you would usually wear, as these will have some padding for cushioning.
Try to always find a dedicated walking or outdoors shop with trained staff. If not, ask for the salesperson with the most experience when it comes to walking shoes.
If they offer a foot measuring service, take them up on this offer. Your feet do change size slightly over time. Ensure you stand up whilst this is taking place.
Try on both shoes – I've lost count of the number of times I've seen people try everyday trainers on, but only on one foot. There is no point saving time if the fit is wrong with walking shoes.
Make sure you have enough room to wiggle your toes comfortably. You should have about half an inch between the end of your big toe and the end of the shoe. But too much room can also cause an issue.
Walk up and down the shop. Using the salesperson or a friend, get them to keep a close eye on the heels as you walk. Are the shoes slipping whilst you walk, or do they grip your foot nicely?
Whilst you want your shoe to grip your heel whilst walking, you should be able to fit your finger between your heel and the back of the shoe.
Ask the shop if they have an incline board or ramp, so that you can see if there is any movement when walking on a gradient that is not picked up walking on the flat. It's not as if there are no hills in the UK!
Other features to look for when choosing walking shoes and boots
What is the upper made of? Is it made of leather, or a synthetic material. Leather boots are stiffer, more water resistant, and tougher when climbing on high, rocky ground. Synthetic materials will be lighter and more flexible, as well as more breathable, but more suited to pavements and grass.
Weight of boot. If you try on a pair of boots in a shop and they feel heavy, you may be put off straight away, believing that they will be too heavy come the end of a walk. But if you choose too light a boot, then you may find that you feel each stone that you tread on, thus hurting your feet. A heavier boot may well protect you from that wear and tear, so don't rule them out immediately.
Is it waterproof? You really want to try and avoid getting wet feet, so waterproofing is very important. Most boots are waterproof to some degree, but the best material is Goretex (shoes and boots with this will often have GTX after their name).
Does it have a heel? Boots with a heel tend to be good on unstable terrains, especially when going downhill. Boots with more of a flat but rolling sole give a natural motion on easier terrain.
Caring for your walking boots once you have bought them
Obviously if you make a large investment on some quality footwear, you want to make the most of that investment by caring for your walking boots after wearing them.
Cleaning your walking boots
Cleaning removes mud and grit that could damage the boots, so it is essential to give them a good check over after a walk, especially if it has been one likely to cause damage.
Remove the laces, take out insoles, and loosen the tongue. Use a blunt knife to remove stones from the sole, and any dried mud.
Lightly wet the uppers using a sponge, but make sure you don't soak the boots.
Using a soft brush, scrub away any remaining mud carefully. You can get boot cleaning products especially for ingrained dirt – see here on Amazon.
Stuff with scrunched up newspaper balls, and allow to dry naturally, away from radiators.
Reproofing your walking boots
Obviously reproofing your boots will help repel water, but the method depends on the material of your boots.
Reproofing Fabric boots – whilst the uppers are wet, apply a reproofing and conditioning product, whether one that dabs on or a spray product. Wipe away any excess with a soft cloth and leave to dry naturally.
Reproofing Leather boots – using a soft cloth, rub clear waterproofing wax into the clean leather, applying in circles. Don't use too much at a time. Again, wipe away any excess and leave to dry naturally.
You may want to use a leather conditioner on leather boots, to help keep them supple and to stop them cracking. If so, apply this prior to reproofing.
Wrapping up
Choosing and buying your walking shoes and boots will be the most important purchase you make. No other equipment is as important as looking after your feet properly with the right shoe or boot for you. So take your time, do some research, take on advice from both walkers and the shop expert, and don't be rushed into buying something that you later find causes you issues.
Recent Posts